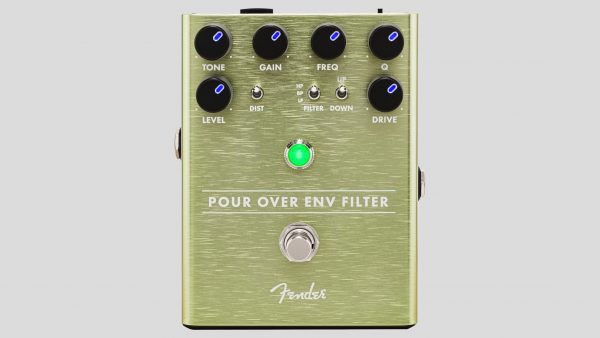 Fender 0234549000
€ 99 – OFFERTA A TEMPO LIMITATO
NUOVO CON 2 ANNI DI GARANZIA
DISPONIBILE IN PRONTA CONSEGNA
SPEDIZIONE € 9 OPPURE GRATUITA
SPEDIZIONE GRATUITA
se abbinato all'acquisto delle corde:
Corde per chitarra  (minimo 3 mute)
Corde per basso  (minimo 2 mute)
SPEDIZIONE GRATUITA
se abbinato all'acquisto di un altro articolo:
pickup, pedale, chitarra, basso, ampli,
custodia rigida, custodia morbida (no 405)
(no tracolle, cavi, t-shirt, piccoli accessori)
Fender Pour Over Envelope Filter
0234549000 – Made in China


Fender 0234549000
A unique spin on the traditional envelope filter—aka auto-wah—the Pour Over envelope filter has a few tricks hidden up its sleeve. Not only does it react to your picking dynamics, we added an onboard distortion circuit with dedicated controls that can be toggled to punch things up a bit. The comprehensive control set also includes selectable High-Pass, Low-Pass and Band-Pass filter types, as well as sweep direction control so you can tailor the sound precisely for your musical needs.
Designed by our in-house team of experts, the Pour Over Envelope Filter is an all-original Fender circuit. The chassis is crafted from lightweight, durable anodized aluminum, and the Amp Jewel LED gives your pedalboard the classic Fender look. The switchable LED-backlit knobs show your control settings on a dark stage at a glance.
FEATURES
– Envelope filter pedal
– Onboard distortion
– High, Low and Band-Pass filters
– Sweep direction control
– Magnetically latched hinged 9V battery door
– Amp jewel LED
STAGE-READY CONSTRUCTION
Every Fender effects pedal is crafted from lightweight, durable anodized aluminum-they'll easily withstand the rigors of touring.