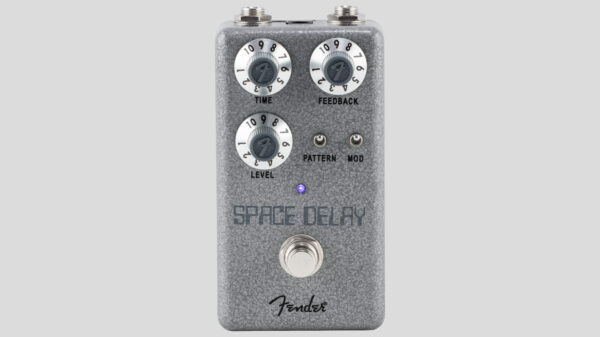 Fender 0234577000
€ 89
NUOVO CON 2 ANNI DI GARANZIA
DISPONIBILE SU ORDINAZIONE
SPEDIZIONE € 9 OPPURE GRATUITA
SPEDIZIONE GRATUITA
se abbinato all'acquisto delle corde:
Corde per chitarra  (minimo 3 mute)
Corde per basso  (minimo 2 mute)
SPEDIZIONE GRATUITA
se abbinato all'acquisto di un altro articolo:
pickup, pedale, chitarra, basso, ampli,
custodia rigida, custodia morbida (no 405)
(no tracolle, cavi, t-shirt, piccoli accessori)
Fender Hammertone Space Delay
0234577000 – Made in China


Fender 0234577000
FEATURES
– Fender-designed Tape Delay Effect
– Pattern & Mod Switches
– Top Mount Input/Output Jacks
– True-Bypass Switching, Analog Dry-Through
– Powered by 9-Volt Center Negative AC Adaptor, Not Included
Designed by our in-house experts, the Hammertone Space Delay delivers the classic tape echo sound, with three distinct repeat patterns and up to 950ms of delay time.
Three separate delay patterns emulate classic tape echo units, which utilized multiple tape heads to achieve different rhythmic patterns in the repeats.
The modulation switch activates a swirling, choral effect on the repeats. The Rate and Depth of this effect can be adjusted with internal trim pots.
Paying homage to Fender's historic custom colors, these "F" logo knobs are easy to read, easy to grip and stand out on stage.
The rugged aluminum enclosure and metal hardware deliver road-worthy reliability. True bypass switching ensure easy setup and pure tone.
Top-mounted input and output jacks allow more pedals to be used on the same board, as well as increasing pedal routing options.