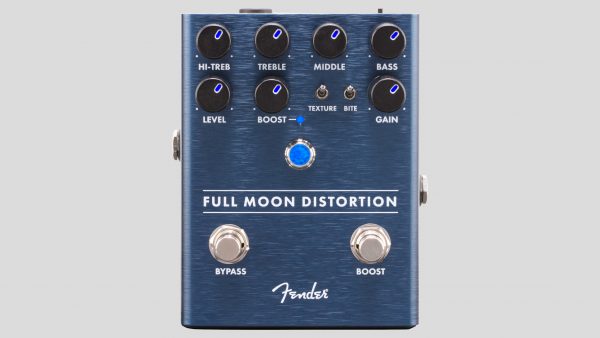 Fender 0234537000
€ 129
NUOVO CON 2 ANNI DI GARANZIA
DISPONIBILE SU ORDINAZIONE
SPEDIZIONE € 9 OPPURE GRATUITA
SPEDIZIONE GRATUITA
se abbinato all'acquisto delle corde:
Corde per chitarra  (minimo 3 mute)
Corde per basso  (minimo 2 mute)
SPEDIZIONE GRATUITA
se abbinato all'acquisto di un altro articolo:
pickup, pedale, chitarra, basso, ampli,
custodia rigida, custodia morbida (no 405)
(no tracolle, cavi, t-shirt, piccoli accessori)
Fender Full Moon Distortion
0234537000 – Made in China


Fender 0234537000
Packed with brutal, high-gain tone and sound-shaping options galore, the Full Moon Distortion pedal has everything you need to unleash sonic mayhem. Both symmetrical and asymmetrical clipping modes are lurking under the Texture switch while the Bite switch shifts the upper-midrange and harmonics to bring out your pick attack, letting you cut and chug through the mix with ease. The 3-Band EQ lets you dial in your sound to taste, while the flexible Hi-Treble control shapes your high end. The second footswitch kicks in up to 12dB of snarling post-gain Boost.
FEATURES
– High-gain distortion effect pedal
– Onboard 3-Band EQ; Texture and Bite switches
– Up to 12dB switchable Boost
– Magnetically latched hinged 9V battery door
– LED-backlit knobs; Fender Amp Jewel LED
STAGE-READY CONSTRUCTION
Every Fender effects pedal is crafted from lightweight, durable anodized aluminum-they'll easily withstand the rigors of touring.