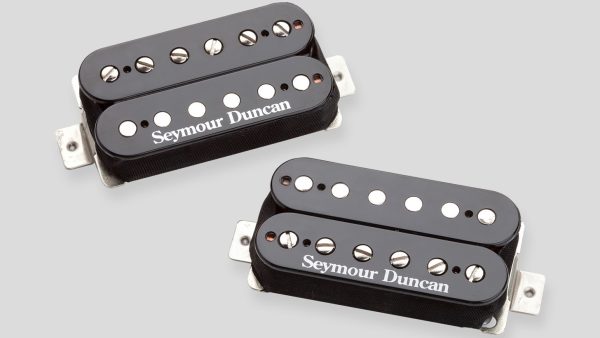 Seymour Duncan 11108-13-B
€ 229
NUOVO CON 2 ANNI DI GARANZIA
DISPONIBILE SU ORDINAZIONE
SPEDIZIONE € 9 OPPURE GRATUITA
SPEDIZIONE GRATUITA
se abbinato all'acquisto delle corde:
Corde per chitarra  (minimo 3 mute)
Corde per basso  (minimo 2 mute)
SPEDIZIONE GRATUITA
se abbinato all'acquisto di un altro articolo:
pickup, pedale, chitarra, basso, ampli,
custodia rigida, custodia morbida (no 405)
(no tracolle, cavi, t-shirt e piccoli accessori)
Seymour Duncan Hot Rodded Set
– SH-4 JB Humbucker Bridge
– SH-2N Jazz Humbucker Neck
4 conduttori – Black
11108-13-B – Made in Usa
– manuale, viti e molle inclusi –


Seymour Duncan 11108-13-B
The ultimate Hot Rodded humbucker pickups, the JB (SH-4) and Jazz Models (SH-2) make for a versatile combination that will breathe life into any guitar.
Seymour created this classic humbucker combination while in England in 1974, and it remains his favorite set of pickups to this day – an SH-4 JB for the bridge and SH-2n Jazz Model for the neck. Together these pickups have become one of the most timeless and versatile humbucker sets ever built.
Hand built in our Santa Barbara, CA factory, these humbucker pickups use an alnico 5 bar magnet, nickel silver bottom plate, 4-conductor lead wire for multiple wiring options, and are vacuum wax potted for squeal-free performance.