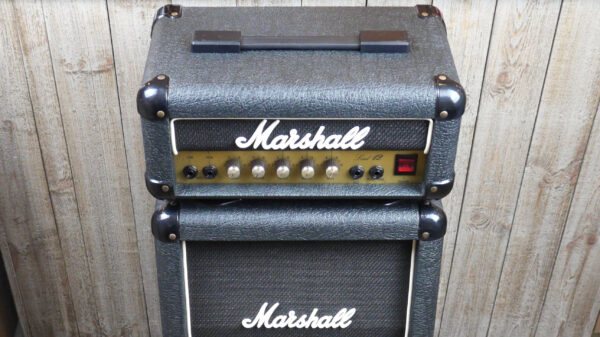 Marshall 3005
€ 1099 – USATO
DISPONIBILE IN PRONTA CONSEGNA
SPEDIZIONE € 29
Marshall 3005 Lead 12 Mini Stack
testata 12 watt + 2 casse 1×10″ Celestion
Made in England
anno di produzione: 1989
condizioni estetiche: perfette
funzionamento: perfetto


Marshall 3005
Little Marshall Lead 12 was born with Jim Marshall's intention to recreate the sound of his legendary tube heads (beautiful but very expensive and practically impossible to manage at home) in an affordable and small size amp.
The idea was to recreate the circuit of the legendary JCM 800 (with practically the same inputs, high and low, and controls, except for the presence) by simulating the tubes with mosfet-type transistors.
The result was excellent, in my opinion: the Marshall Lead 12, perhaps one of the most underrated amps in history. You want for the price, you want the mosfets instead of the tubes, you want the cones (cheap), it has never been appreciated enough.
Yet with just a few euros (actually not too few, the prices are going up) you could take home a truly extraordinary amp …
The Marshall Lead 12 3005 is a small 12 watt mosfet amplifier manufactured in the 1980s. There are several models of Lead 12, but mainly they are divided into stack (3005) or combo (5005). This is the 3005 version, consisting of a head and two speakers, both with a 10-inch Celestion G10D-25 cone.