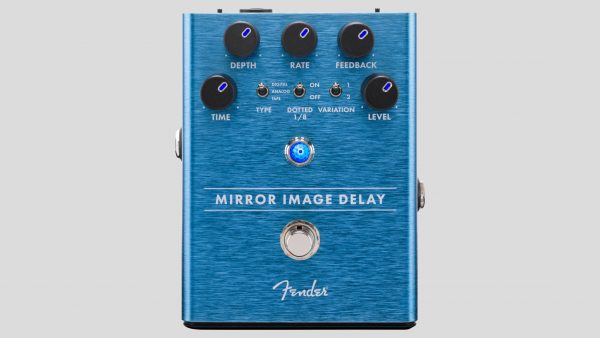 Fender 0234535000
€ 109
NUOVO CON 2 ANNI DI GARANZIA
DISPONIBILE SU ORDINAZIONE
SPEDIZIONE € 9 OPPURE GRATUITA
SPEDIZIONE GRATUITA
se abbinato all'acquisto delle corde:
Corde per chitarra  (minimo 3 mute)
Corde per basso  (minimo 2 mute)
SPEDIZIONE GRATUITA
se abbinato all'acquisto di un altro articolo:
pickup, pedale, chitarra, basso, ampli,
custodia rigida, custodia morbida (no 405)
(no tracolle, cavi, t-shirt, piccoli accessori)
Fender Mirror Image Delay
0234535000 – Made in China


Fender 0234535000
There's no denying the power of a good delay; ranging from subtle to smashing, this ambient effect is one of the cornerstones of modern music. The Mirror Image Delay brings this atmospheric effect to your rig, giving you the ability to create depth with a simple slapback or develop an epic soundscape with modulated repeats. Digital, Analog, and Tape modes—each with two voicing variations—make this expressive and inspiring pedal indispensable. It even has the option to add a dotted-eighth note for those Irish-inspired washes of sound. The delay tails continue when the pedal is bypassed, ensuring a natural sound.
FEATURES
– Digital, Analog and Tape delay types
– Option to add dotted-eighth note
– LED backlit knobs
– Fender Amp Jewel LED
– Magnetically latched hinged 9V battery door
– Lightweight durable anodized aluminum construction
STAGE-READY CONSTRUCTION
Every Fender effects pedal is crafted from lightweight, durable anodized aluminum-they'll easily withstand the rigors of touring.