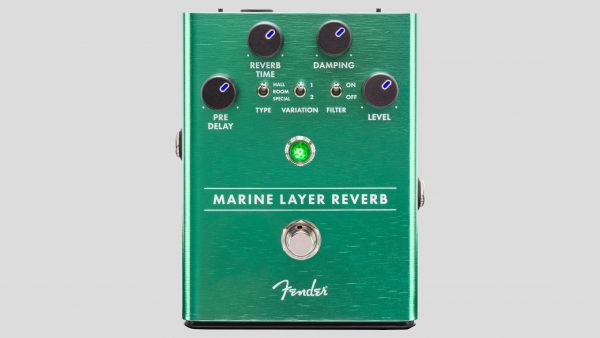 Fender 0234532000
€ 94 – OFFERTA A TEMPO LIMITATO
NUOVO CON 2 ANNI DI GARANZIA
DISPONIBILE IN PRONTA CONSEGNA
SPEDIZIONE € 9 OPPURE GRATUITA
SPEDIZIONE GRATUITA
se abbinato all'acquisto delle corde:
Corde per chitarra  (minimo 3 mute)
Corde per basso  (minimo 2 mute)
SPEDIZIONE GRATUITA
se abbinato all'acquisto di un altro articolo:
pickup, pedale, chitarra, basso, ampli,
custodia rigida, custodia morbida (no 405)
(no tracolle, cavi, t-shirt, piccoli accessori)
Fender Marine Layer Reverb
0234532000 – Made in China


Fender 0234532000
Reverb is an essential element in nearly any rig. Whether you're adding dimension to your sound or drenching your signal in sparkling reflections, our Marine Layer Reverb can do it all. Multiple reverb types, including classics like Hall and Room along with modern marvels like Shimmer, make this an indispensable pedal in your signal chain. The reverb tails continue when the effect is muted, ensuring a smooth and natural decay.
FEATURES
– Hall, Room and Shimmer reverb types
– Reverb tails continue when effect is muted
– LED backlit knobs
– Fender Amp Jewel LED
– Magnetically latched hinged 9V battery door
– Lightweight durable anodized aluminum construction
STAGE-READY CONSTRUCTION
Every Fender effects pedal is crafted from lightweight, durable anodized aluminum-they'll easily withstand the rigors of touring.