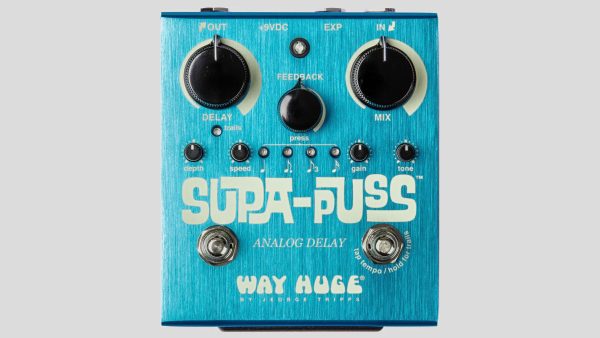 Way Huge WHE707
€ 199 – OFFERTA A TEMPO LIMITATO
NUOVO CON 2 ANNI DI GARANZIA
DISPONIBILE IN PRONTA CONSEGNA
SPEDIZIONE € 9 OPPURE GRATUITA
SPEDIZIONE GRATUITA
se abbinato all'acquisto delle corde:
Corde per chitarra  (minimo 3 mute)
Corde per basso  (minimo 2 mute)
SPEDIZIONE GRATUITA
se abbinato all'acquisto di un altro articolo:
pickup, pedale, chitarra, basso, ampli,
custodia rigida, custodia morbida (no 405)
(no tracolle, cavi, t-shirt e piccoli accessori)
Way Huge Supa Puss
Analog Delay
WHE707 – Made in Usa


Way Huge WHE707
This pedal boasts up to 900ms of delay time with a full array of controls to tweak the parameters of your delay signal, including tap tempo, note subdivision, and modulation.
THE LONG STORY
The Way Huge Supa-Puss Analog Delay was designed by delay master Jeorge Tripps for exploring the farthest reaches of true analog delay potential, featuring an eternity of delay time and fine control over numerous parameters of your delay signal.
Tripps equipped this pedal with a total of six bucket-brigade chips, delivering up to 900 milliseconds of delay time. With the Tap Tempo switch, you can program in real time up to three full seconds of delay time for ethereal ambience. The Subdivision control allows you to set how your repeats are subdivided, and by switching to the unique Chase mode, you can set your repeats to cycle through each of the Subdivision values in different ways for maximum freak-out effects.