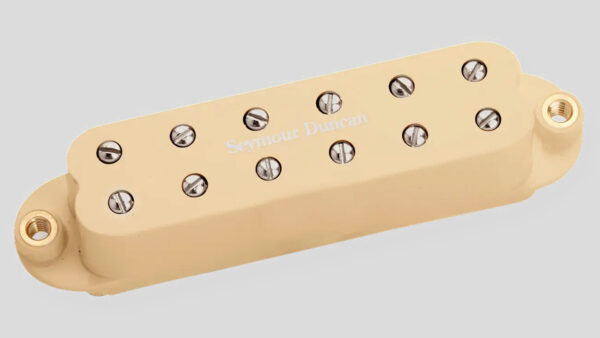 Seymour Duncan 11205-22-C
€ 109 – OFFERTA A TEMPO LIMITATO
NUOVO CON 2 ANNI DI GARANZIA
DISPONIBILE IN PRONTA CONSEGNA
SPEDIZIONE € 9 OPPURE GRATUITA
SPEDIZIONE GRATUITA
se abbinato all'acquisto delle corde:
Corde per chitarra  (minimo 3 mute)
Corde per basso  (minimo 2 mute)
SPEDIZIONE GRATUITA
se abbinato all'acquisto di un altro articolo:
pickup, pedale, chitarra, basso, ampli,
custodia rigida, custodia morbida (no 405)
(no tracolle, cavi, t-shirt e piccoli accessori)
Seymour Duncan SL59-1B Little 59
Stratocaster Mini Humbucker
Bridge – 4 conduttori
Cream – 11205-22-C – Made in Usa
– manuale, viti e gommini inclusi –


Seymour Duncan 11205-22-C
The Little '59 for Strat pickups (SL59-1) coax warm, smooth and defined P.A.F. tone from any Stratocaster.
A roadworthy set of our Little '59s take your guitar from gator country to big city back alleys and everywhere in between. The Little '59 neck pickup has a slightly stronger treble emphasis than a traditional P.A.F., with added articulation. It's a single coil sized humbucker with a nice, balanced P.A.F.-like response for big, full chords, and fat, punchy solos.
The Little '59 bridge model is a single coil sized humbucker that will inject the sound of a Les Paul directly into your Stratocaster. Its medium output and scooped mids will really add depth to your bridge position. The 4-conductor lead wire gives you access to parallel and split wiring options for added versatility. This pickup is a drop-in for any standard single coil pickup route.