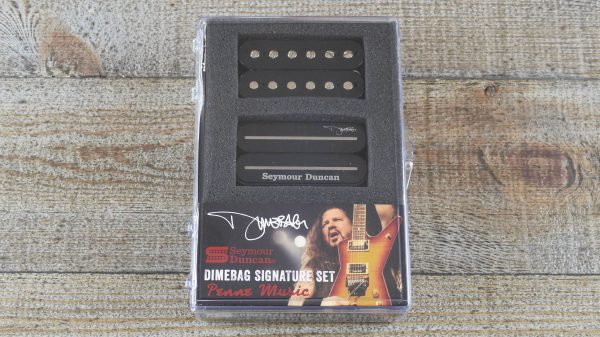 Seymour Duncan 11102-83-B
€ 259
NUOVO CON 2 ANNI DI GARANZIA
DISPONIBILE SU ORDINAZIONE
SPEDIZIONE € 9 OPPURE GRATUITA
SPEDIZIONE GRATUITA
se abbinato all'acquisto delle corde:
Corde per chitarra  (minimo 3 mute)
Corde per basso  (minimo 2 mute)
SPEDIZIONE GRATUITA
se abbinato all'acquisto di un altro articolo:
pickup, pedale, chitarra, basso, ampli,
custodia rigida, custodia morbida (no 405)
(no tracolle, cavi, t-shirt e piccoli accessori)
Seymour Duncan Dimebag Darrell Set
SH-13 Dimebucker Bridge 4 conduttori
SH-1B 59 Bridge (Neck) 2 conduttori
Black – 11102-83-B – Made in Usa
– manuale, viti e molle inclusi –


Seymour Duncan 11102-83-B
Not many high-output passive humbucker pickups are capable of the massive metal tone of Dimebag Darrell. Dime wanted it all: beef, crunch, edge, and balls, with biting treble and punchy bass, but an overall smoothness. This was his bridge and neck setup.
Dime's bridge pickup delivers crunchy pick attack, scooped mids and just the right amount of saturation. He wanted his signature humbucker to have a thick crunch that sags just a little when you really lay into it. Combine that with a full, tight low end response, a ceramic magnet and dual stainless steel blades, and you have the Dimebucker.
Dime preferred the warm, smooth power of a '59 bridge pickup in the neck position to balance with his signature bridge Dimebag pickup. It gave extra teeth to his solos. In a 2004 interview Dimebag described the tone of the Dimebucker.