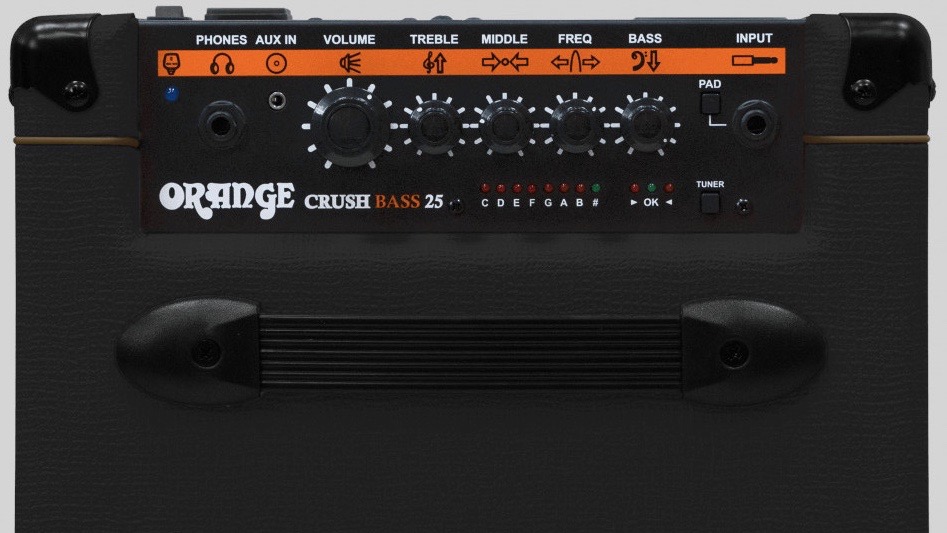 Orange Crush Bass 25 Black
€ 229 
NUOVO CON 2 ANNI DI GARANZIA
DISPONIBILE SU ORDINAZIONE
SPEDIZIONE € 15 OPPURE GRATUITA 
SPEDIZIONE GRATUITA
se abbinato all'acquisto delle corde:
Corde per chitarra  (minimo 3 mute)
Corde per basso  (minimo 2 mute)
SPEDIZIONE GRATUITA
se abbinato all'acquisto di un altro articolo:
pickup, pedale, chitarra, basso, ampli,
custodia rigida, custodia morbida (no 405)
(no tracolle, cavi, t-shirt, piccoli accessori)
Orange Crush Bass 25 Black
– amplificatore combo per basso –
25 watt – Made in China


BRINGING THE 'ORANGE SOUND' TO THE REHEARSAL ROOM…
You wouldn't compromise your bass sound with the band, so why should practising at home be any different? Whilst the Crush Bass 25 may be the smallest model in the Crush Bass amp range, it still retains the warm and rounded tonal character that makes Orange Amps the choice of some of the world's most iconic bass players.
This 25 Watt combo features an all-analogue signal path, a ported cabinet for improved low end response plus a highly responsive active EQ section. Like the rest of the Crush Bass range, the amp's variable parametric mid band allows for unlimited control over a broad range of frequencies in addition to the bass and treble. Dial in a massive range of classic bass tones or create your own. With an integrated tuner, an aux. input for backing tracks and a headphone output with our CabSim circuitry, the Crush Bass 25 gives all players the perfect miniature rig on which to hone their tone.