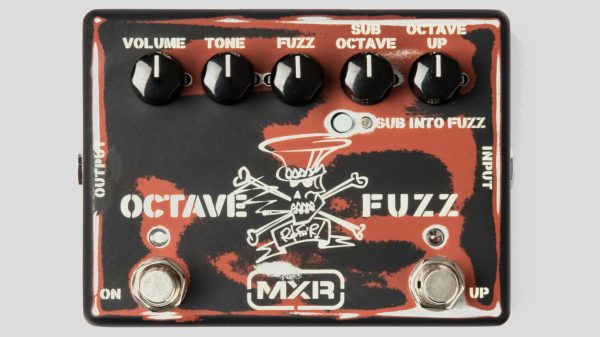 MXR SF01
€ 179
NUOVO CON 2 ANNI DI GARANZIA
DISPONIBILE SU ORDINAZIONE
SPEDIZIONE € 9 OPPURE GRATUITA
SPEDIZIONE GRATUITA
se abbinato all'acquisto delle corde:
Corde per chitarra  (minimo 3 mute)
Corde per basso  (minimo 2 mute)
SPEDIZIONE GRATUITA
se abbinato all'acquisto di un altro articolo:
pickup, pedale, chitarra, basso, ampli,
custodia rigida, custodia morbida (no 405)
(no tracolle, cavi, t-shirt e piccoli accessori)
MXR Slash Octave Fuzz
SF01 – Made in Usa


MXR SF01
The Slash Octave Fuzz combines searing fuzz with a sub octave grow and an array of controls for fine-tuning your sinister sound.
THE LONG STORY
Two legendary and timeless icons of rock music—Slash and MXR—have teamed up to deliver the Slash Octave Fuzz. It features a searing Fuzz tone coupled with a separate Sub Octave voice and an Octave Up Fuzz, all for thickening up your tone with a sinister growl. With an array of external and internal controls, there are numerous ways to combine the main Fuzz effect's thick '70s shag and the chainsaw grind of the Octave Up Fuzz with the warm growl of the Sub Octave. Internal Gain and Tone pots shape the Octave Up Fuzz effect. Featuring custom Slash artwork and a distressed hot-rod paintjob, the Slash Octave Fuzz features all analog circuitry, true hardwire bypass and comes in a heavy duty housing with durable jacks and switches.
Lo Slash Octave Fuzz è caratterizzato da un fuzz violento unito ad una voce Sub-Ottava ed un'ottava alta fuzz, tutto per arricchire il tuo suono e renderlo un grugnito scellerato. Con una serie di controlli esterni ed interni, l'effetto permette numerose possibilità di combinare il carattere '70s del Fuzz principale con il suono graffiante dell'ottava superiore ed il calore dell'ottava bassa. I potenziometri interni del Gain e Tone regolano il Fuzz all'ottava suoeriore. Il Dunlop Slash Octave Fuzz è interamente analogico, ha switch true-bypass e meccaniche particolarmente resistenti.