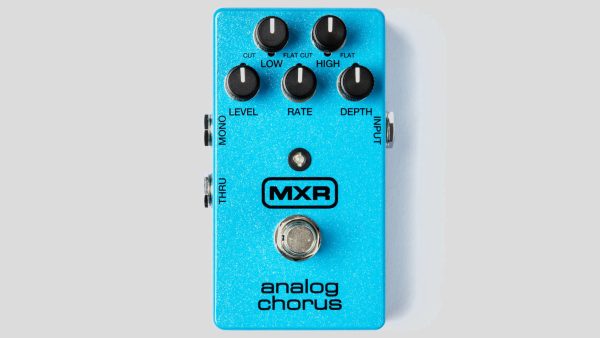 MXR M234
€ 129
NUOVO CON 2 ANNI DI GARANZIA
DISPONIBILE SU ORDINAZIONE
SPEDIZIONE € 9 OPPURE GRATUITA
SPEDIZIONE GRATUITA
se abbinato all'acquisto delle corde:
Corde per chitarra  (minimo 3 mute)
Corde per basso  (minimo 2 mute)
SPEDIZIONE GRATUITA
se abbinato all'acquisto di un altro articolo:
pickup, pedale, chitarra, basso, ampli,
custodia rigida, custodia morbida (no 405)
(no tracolle, cavi, t-shirt e piccoli accessori)
MXR Analog Chorus
M234 – Made in Usa


MXR M234
The Analog Chorus creates classically lush, liquid textures with Rate, Level, Depth, High, and Low controls for superior control over your sound.
This pedal can be powered by a 9-volt battery, a Dunlop ECB003 9-volt adapter, or the DC Brick, Iso-Brick, and Mini Iso-Brick power supplies (not included).
THE LONG STORY
The Analog Chorus uses bucket-brigade circuitry to create classically lush, liquid textures that you just can't get with digital circuitry. Rate, Level, and Depth controls, as well as knobs for cutting High and Low frequencies allow ultimate tone control. Like all MXR pedals, the Analog Chorus comes in a heavy-duty housing with durable jacks and switches for a lifetime on the road.
M234 Analog Chorus di MXR è il pedale effetto di modulazione completamente analogico che utilizza la tecnologia "Bucket Brigade" per un suono caldo e cremoso. Le manopole del Rate, Level, Depth, Low e High permettono un controllo formidabile del tono. Come tutti i pedali MXR, l'M234 viene prodotto in uno chassis molto resistente con ingressi jack e un bottone switch progettati per durare nel tempo.