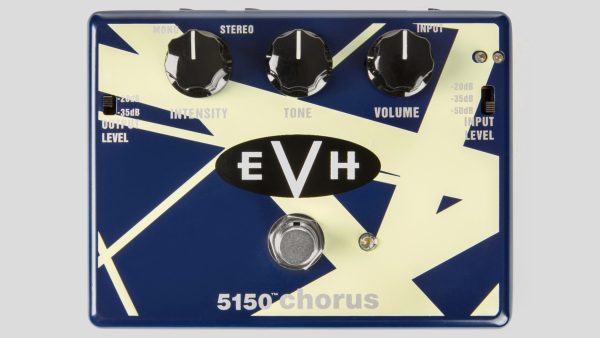 MXR EVH30
€ 229
NUOVO CON 2 ANNI DI GARANZIA
DISPONIBILE IN PRONTA CONSEGNA
SPEDIZIONE € 9 OPPURE GRATUITA
SPEDIZIONE GRATUITA
se abbinato all'acquisto delle corde:
Corde per chitarra  (minimo 3 mute)
Corde per basso  (minimo 2 mute)
SPEDIZIONE GRATUITA
se abbinato all'acquisto di un altro articolo:
pickup, pedale, chitarra, basso, ampli,
custodia rigida, custodia morbida (no 405)
(no tracolle, cavi, t-shirt e piccoli accessori)
MXR EVH 5150 Chorus
EVH30 – Made in Usa


MXR EVH30
Get Eddie Van Halen's classic chorus sound suped up for modern rig flexibility.

THE LONG STORY
The EVH 5150 Chorus is based on a legendary chorus unit that Eddie used to add texture and dimension to some of his most classic recordings from the early 1980s. It has a simple three-knob setup Volume, Tone, and Intensity with Input and Output Level pad switches, mono and stereo outputs, and an internal True/Buffered Bypass switch for modern rig flexibility. Combine this pedal with the 5150 Overdrive for a huge sound that's thick and chewy.
MXR EVH30 è basato sul leggendario chorus che Eddie Van Halen usava per aggiungere profondità ad alcune delle sue registrazioni più famose a partire dai primi anni '80. Ha un'interfaccia semplice a tre controlli, Volume, Tone e Intensity, con degli switch per selezionare i livelli di ingresso e uscita, uscite mono e stereo e uno switch True/Buffered Bypass interno per poter personalizzare al massimo il tuo suono. Utilizza l'EVH30 con il 5150 Overdrive per un suono enorme, denso e profondo.