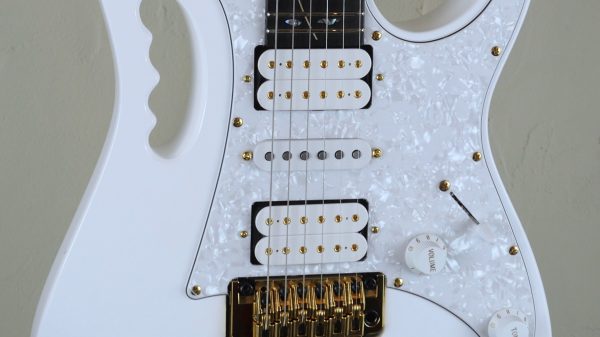 Ibanez JEM7VP
€ 1899 – SETUP GRATUITO
NUOVA CON 2 ANNI DI GARANZIA
DISPONIBILE SU ORDINAZIONE
SPEDIZIONE GRATUITA
CUSTODIA IBANEZ INCLUSA
Ibanez Steve Vai JEM7VP White
Signature Models – Made in Indonesia
Custodia morbida Ibanez Gig Bag
Upgrade custodia rigida originale Ibanez
+ spedizione assicurata gratuita:
M300C Case + € 149


Ibanez JEM7VP
Neck type: Wizard 5pc Maple/Walnut neck w/KTS TITANIUM rods
Top/back/body: Alder
Fretboard: Ebony / Tree of Life inlay
Fret: Jumbo / Premium fret edge treatment
Number of frets 24
Bridge: Edge tremolo
String space: 10.8mm
Neck & Bridge pickups: DiMarzio Evolution (H) (Passive/Ceramic)
Middle pickup: DiMarzio Evolution (S) (Passive/Alnico)
Factory tuning: 1E, 2B, 3G, 4D, 5A, 6E
Strings: D'Addario EXL120
String gauge: 09-42
Hardware color: Gold
Scale: 648 mm / 25.5″
a: Width 43 mm at NUT
b: Width 58 mm at 24 F
c: Thickness 18 mm at 1 F
d: Thickness 20 mm at 12 F
Radius: 400 mm R
EBONY FRETBOAD w/GOLD STEP OFF-SET DOT INLAY
An Ebony fretboard features quick response and great articulation.
THE WIZARD 5pc MAPLE/WALNUT NECK w/KTS TITANIUM RODS
The Wizard 5pc Maple/Walnut neck w/KTS Titanium rods provides absolute rock solid stability provides extra-smooth playing.
DIMARZIO EVOLUTION PICKUPS
Steve Vai's Signature features DiMarzio Evolution humbuckers in the bridge and neck positions and a DiMarzio Evolution single coil in the middle position for a wide array of rock tones.
EDGE TREMOLO BRIDGE w/LION'S CLAW TREMOLO CAVITY
JEM7VP will let you scream or moan with the Edge bridge and groundbreaking Lion's Claw tremolo cavity, allowing pitches to be radically raised or lowered without obstruction.
PREMIUM FRET EDGE TREATMENT
Premium Fret Edge Treatment offer super smooth, comfortable performance.