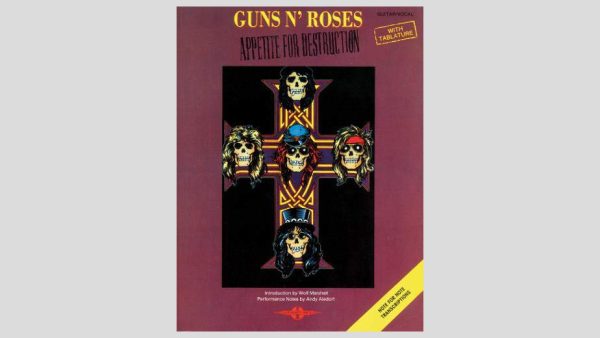 ISBN 9780571532773 – 0571532772
€ 15 – NUOVO
DISPONIBILE IN PRONTA CONSEGNA
SPEDIZIONE €9 OPPURE GRATUITA
SPEDIZIONE GRATUITA
se abbinato all'acquisto delle corde:
Corde per chitarra  (minimo 3 mute)
Corde per basso  (minimo 2 mute)
Guns N' Roses
Appetite For Destruction
Guitar TAB


ISBN 9780571532773 – 0571532772
AFD was the debut studio album by American hard rock band Guns N' Roses. Released in 1987, it was well received by critics and topped the American Billboard 200 chart. 20 years afer its release, the album has been certified diamond by the RIAA, accumulating worldwide sales in excess of twenty-eight million.
This album matching songbook feautures all the hits from the album, including the classic Welcome To The Jungle, Sweet Child O' Mine and Paradise City, arranged in standard notation and guitar tablature with chord boxes and full lyrics.
ISBN: 0571532772
Publisher: Faber Music
Arrangement format: Guitar Tab
Instruments: Guitar, Voice
Genre: Rock
Pages: 96
Language: English
Contents:
Welcome To The Jungle – It's So Easy – Nightrain – Out ta Get Me – Mr. Brownstone – Paradise City – My Michelle – Think About You – Sweet Child O' Mine – You're Crazy – Anything Goes – Rocket Queen
Dal 2002 Penne Music è un punto di riferimento in Italia per i musicisti. Specializzato in vendita di chitarre e bassi propone le marche più prestigiose per soddisfare una clientela di appassionati e professionisti: chitarre, bassi, amplificatori, accessori e tanto altro ancora.
Uno staff specializzato, guidato dalla passione e dalla professionalità del suo titolare Massimo Pennella, saprà guidarti nella ricerca dello strumento musicale o dell'accessorio più adatto alle tue esigenze, riservando le stesse attenzioni sia a un professionista che a un dilettante alle prime esperienze con uno strumento musicale.