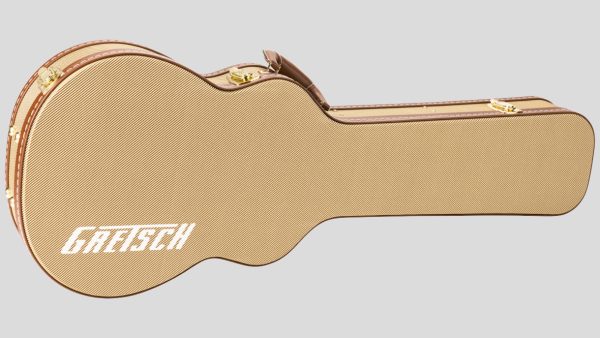 Gretsch 9222655001
€ 139
NUOVA CON 2 ANNI DI GARANZIA
DISPONIBILE SU ORDINAZIONE
SPEDIZIONE € 15 OPPURE GRATUITA
SPEDIZIONE GRATUITA
se abbinato all'acquisto delle corde:
Corde per chitarra  (minimo 3 mute)
Corde per basso  (minimo 2 mute)
SPEDIZIONE GRATUITA
se abbinato all'acquisto di un altro articolo:
pickup, pedale, chitarra, basso, ampli,
custodia rigida, custodia morbida (no 405)
(no tracolle, cavi, t-shirt, piccoli accessori)
Gretsch G2655T Solid Body Case Tweed
– Custodia rigida per chitarra elettrica
solid body, center block jr. e simile –
 Made in China – 9222655001
G2210 / G2215-P90 / G2655
G2655T / G5220 /  G5222
G5230T / G5232T / G5655T


Gretsch 9222655001
Give your Gretsch Streamliner the case it deserves! This tweed case features gold latches, gold hardware, brown plush interior, center storage compartment, and a cream colored Gretsch logo. Durable and stylish, these cases will get your guitar to the gig night after night!
Dai alla tua Gretsch Streamliner la custodia che merita! Questa custodia in tweed presenta chiusure e hardware dorato, interni in peluche marrone, scomparto centrale e logo Gretsch color crema. Durevoli ed eleganti, queste custodie porteranno la tua chitarra ai concerti notte dopo notte!
Dal 2002 Penne Music è un punto di riferimento in Italia per i musicisti. Specializzato in vendita di chitarre e bassi propone le marche più prestigiose per soddisfare una clientela di appassionati e professionisti: chitarre, bassi, amplificatori, accessori e tanto altro ancora.
Uno staff specializzato, guidato dalla passione e dalla professionalità del suo titolare Massimo Pennella, saprà guidarti nella ricerca dello strumento musicale o dell'accessorio più adatto alle tue esigenze, riservando le stesse attenzioni sia a un professionista che a un dilettante alle prime esperienze con uno strumento musicale.