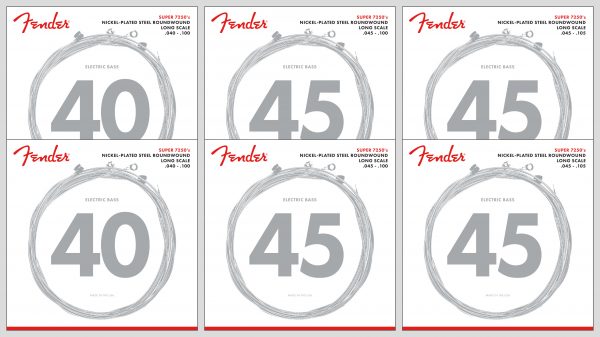 Fender 0737250405/06
€ 40 – NUOVE
DISPONIBILE IN PRONTA CONSEGNA
SPEDIZIONE GRATUITA
Fender Super 7250 Bass Strings
2 mute di corde per basso elettrico
disponibili a scelta nelle seguenti misure:
7250ML 45-100 (45-65-80-100) 
7250M 45-105 (45-65-85-105)
0737250405 0737250406 – Made in Usa


Fender 0737250405/06
Fender 7250 Nickel Plated Steel (NPS) strings combine the high output and dynamic sound of steel with the smooth feel of nickel; perfect for rock, funk and other styles of music where the bass needs to cut through.
Features
– Nickel-plated roundwound strings
– Long scale
– Available in a wide selection of gauges
– Designed for electric bass
7250 ML: 45 – 65 – 80 – 100
7250 M: 45 – 65 – 85 – 105
Dal 2002 Penne Music è un punto di riferimento in Italia per i musicisti. Specializzato in vendita di chitarre e bassi propone le marche più prestigiose per soddisfare una clientela di appassionati e professionisti: chitarre, bassi, amplificatori, accessori e tanto altro ancora.
Uno staff specializzato, guidato dalla passione e dalla professionalità del suo titolare Massimo Pennella, saprà guidarti nella ricerca dello strumento musicale o dell'accessorio più adatto alle tue esigenze, riservando le stesse attenzioni sia a un professionista che a un dilettante alle prime esperienze con uno strumento musicale.