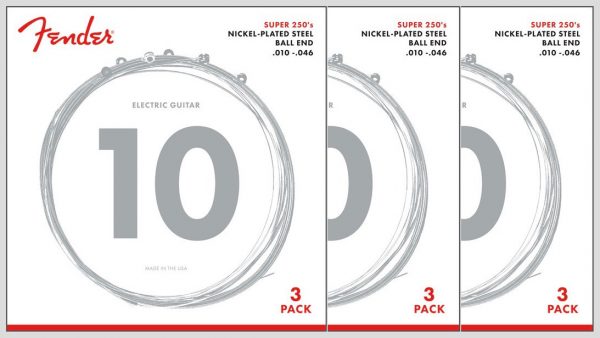 Fender 0730250310 (x3)
€ 54 – NUOVE
DISPONIBILE IN PRONTA CONSEGNA
SPEDIZIONE GRATUITA
Fender Super 250R 10-46 3-Pack (x3)
9 mute di corde per chitarra elettrica
10-13-17-26-36-46 – Made in Usa


Fender 0730250310 (x3)
Fender Super 250's strings combine the high output and dynamic sound of steel with the smooth feel of nickel. These versatile ball-end string sets are ideal for any type of music, but particularly rock, blues and other styles with cutting, articulate tone.
Le corde Fender Super 250 combinano l'elevata resa e il suono dinamico dell'acciaio con la sensazione morbida del nichel. Questi versatili set di corde a sfera sono ideali per qualsiasi tipo di musica, ma in particolare rock, blues e altri stili con un tono tagliente e articolato.
250R – 9-Pack: 10-13-17-26-36-46
Dal 2002 Penne Music è un punto di riferimento in Italia per i musicisti. Specializzato in vendita di chitarre e bassi propone le marche più prestigiose per soddisfare una clientela di appassionati e professionisti: chitarre, bassi, amplificatori, accessori e tanto altro ancora.
Uno staff specializzato, guidato dalla passione e dalla professionalità del suo titolare Massimo Pennella, saprà guidarti nella ricerca dello strumento musicale o dell'accessorio più adatto alle tue esigenze, riservando le stesse attenzioni sia a un professionista che a un dilettante alle prime esperienze con uno strumento musicale.