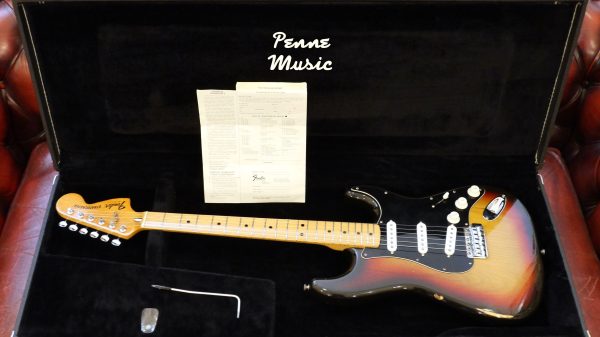 Fender Stratocaster 1976
€ 2799 – USATA – SETUP GRATUITO
DISPONIBILE IN PRONTA CONSEGNA
SPEDIZIONE GRATUITA
CUSTODIA RIGIDA INCLUSA
Fender Stratocaster 1976
3-Color Sunburst – Made in Usa
– Custodia rigida non originale –
anno di produzione: 1976
condizioni estetiche: buone
funzionamento: perfetto
tasti al 90% (ritastata)
Chitarra originale tranne il pot del volume e il
backplate che è originale ma non dell'epoca.


Fender Stratocaster 1976
3-Color Sunburst – Made in Usa
A great classic Strat from the mid '70s that plays like a dream. This guitar features all Standard Stratocaster features from the era and is one of the smoothest playing Strats I have encountered.
SPECS
– Year: 1976
– Serial Number: 76
– Weight: 4,47 kg
– Body: Ash
– Neck: Maple
– Fretboard: Maple
– Finish: 3-Color Sunburst
– PIckups: Fender Single Coil
– Selector Switch: 5-Way
Dal 2002 Penne Music è un punto di riferimento in Italia per i musicisti. Specializzato in vendita di chitarre e bassi propone le marche più prestigiose per soddisfare una clientela di appassionati e professionisti: chitarre, bassi, amplificatori, accessori e tanto altro ancora.
Uno staff specializzato, guidato dalla passione e dalla professionalità del suo titolare Massimo Pennella, saprà guidarti nella ricerca dello strumento musicale o dell'accessorio più adatto alle tue esigenze, riservando le stesse attenzioni sia a un professionista che a un dilettante alle prime esperienze con uno strumento musicale.