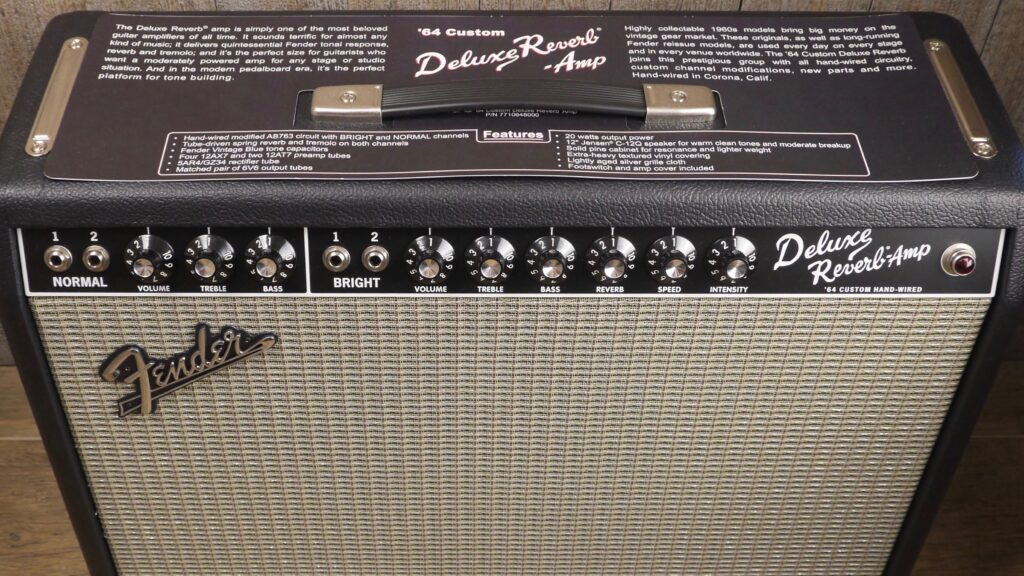 Fender 8180006000
€ 2749
NUOVO CON 2 ANNI DI GARANZIA
DISPONIBILE SU ORDINAZIONE
SPEDIZIONE GRATUITA
Fender 64 Custom Deluxe Reverb
Hand-Wired – amplificatore valvolare
per chitarra, cablato a mano –
20 watt – 1×12 Jensen C12Q Italy
Made in Usa – 8180006000
– 2-Button Footswitch e Cover inclusi –


Played on countless hit recordings, the mid-'60s Deluxe Reverb is a timeless Fender classic and one of the most indispensable workhorse guitar amps ever made. Moderately powered and producing a full, snappy and crystalline tone, the pedal-friendly '64 Custom Deluxe Reverb carries on that legacy with incredible vintage-style tones, thanks to its modified all-tube hand-wired AB763 circuitry. Featuring Bright and Normal channels, tube-driven spring reverb and tremolo on both channels, and 20 watts of output power, this is the go-to amp for warm, clean tones and moderate breakup.
Fender 8180006000
ELECTRONICS
Voltage: 230V EUR
Wattage: 20 Watts
Controls: Normal Channel: Volume, Treble, Bass; Bright Channel: Volume, Treble, Bass, Reverb; Vibrato: Speed, Intensity
Channels: Two – (Normal and Bright)
Inputs: Four – (1/4″, Two Bright and Two Normal)
Speaker Jack: 1/4″
Effects: Reverb, Tremolo
HARDWARE
Cabinet Material: Lightweight Pine
Amplifier Covering: Black Textured Vinyl
Grille Cloth: Silver
Amplifier Jewel: Red Jewel
Front Panel: Black
Handle: Molded Plastic Strap with Nickel-Plated Caps
SPEAKERS
Speakers: One – 12″ Jensen C12Q
Total Impedance: 8 ohms minimum
Speaker Wattage: 35 Watts
TUBES
Preamp Tubes: 3 x 12AX7, 2 x 12AT7
Power Tubes: 2 x 6V6
Rectifier: Tube (1 x 5AR4)
ACCESSORIES
Footswitch: 2-Button Vintage Style (Reverb On/Off, Vibrato On/Off), P/N: 0994058000 (Included)
Included Accessories: Includes two-button vintage footswitch and fitted cover.
MEASUREMENTS
Height: 17.5″ (44.5 cm)
Depth: 9.5″ (24.13 cm)
Width: 24.5″ (62.2 cm)
Weight: 38.2 lbs. (17.3 kg)
Penne Music è rivenditore autorizzato Fender Hand-Wired