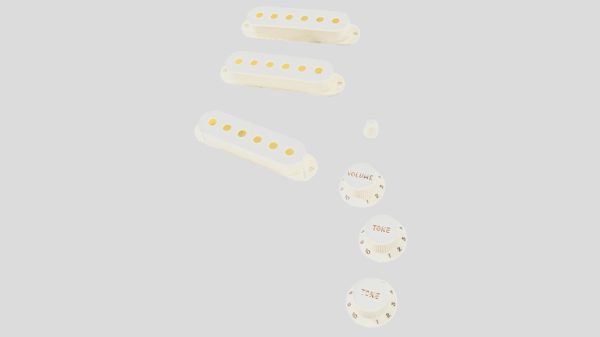 Fender 0992097000
€ 24
NUOVO CON 2 ANNI DI GARANZIA
DISPONIBILE SU ORDINAZIONE
SPEDIZIONE € 9 OPPURE GRATUITA
SPEDIZIONE GRATUITA
se abbinato all'acquisto delle corde:
Corde per chitarra  (minimo 3 mute)
Corde per basso  (minimo 2 mute)
Fender Pure Vintage 60 Stratocaster
Accessory Kit – Vintage White 
Made in Usa – 0992097000


Fender 0992097000
REPLACE, REPAIR AND RESTORE GENUINE FENDER PARTS
From tone and volume knobs to pickup covers, bridge covers and more, Pure Vintage knobs and covers let you cosmetically customize your instrument or amplifier like never before. These genuine replacement parts are created with period-correct personality in mind to the same specifications as early Fender parts, allowing players to give any Fender amp, guitar or bass a shot of vintage-accurate looks and tone.
Dal 2002 Penne Music è un punto di riferimento in Italia per i musicisti. Specializzato in vendita di chitarre e bassi propone le marche più prestigiose per soddisfare una clientela di appassionati e professionisti: chitarre, bassi, amplificatori, accessori e tanto altro ancora.
Uno staff specializzato, guidato dalla passione e dalla professionalità del suo titolare Massimo Pennella, saprà guidarti nella ricerca dello strumento musicale o dell'accessorio più adatto alle tue esigenze, riservando le stesse attenzioni sia a un professionista che a un dilettante alle prime esperienze con uno strumento musicale.