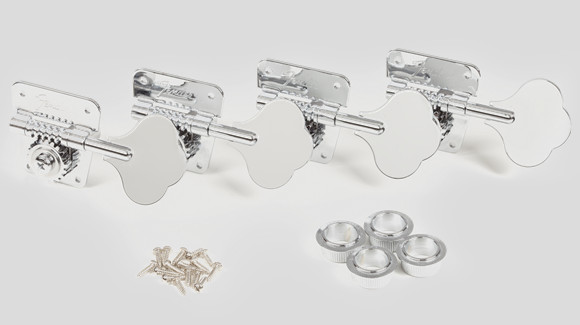 Fender 0076568049
€ 89
NUOVO CON 2 ANNI DI GARANZIA
DISPONIBILE SU ORDINAZIONE
SPEDIZIONE € 9 OPPURE GRATUITA
SPEDIZIONE GRATUITA
se abbinato all'acquisto delle corde:
Corde per chitarra  (minimo 3 mute)
Corde per basso  (minimo 2 mute)
Fender Pure Vintage
70 Bass Tuning Machines
Made in Korea – 0076568049


Fender 0076568049
REPLACE, REPAIR AND RESTORE GENUINE FENDER PARTS
Many of Fender's Pure Vintage hardware and bridges are crafted where possible on the same tooling and machinery as our original-era Fender parts. Some of this original tooling has been diligently rebuilt to achieve the crisp clean construction of original vintage Fender products, though many Pure Vintage parts still retrofit several of our modern instruments and amplifiers. Whether you are personalizing, modifying or restoring, there is no better way to maintain the proud heritage and period-correct accuracy of your classic Fender instrument or amp.
Dal 2002 Penne Music è un punto di riferimento in Italia per i musicisti. Specializzato in vendita di chitarre e bassi propone le marche più prestigiose per soddisfare una clientela di appassionati e professionisti: chitarre, bassi, amplificatori, accessori e tanto altro ancora.
Uno staff specializzato, guidato dalla passione e dalla professionalità del suo titolare Massimo Pennella, saprà guidarti nella ricerca dello strumento musicale o dell'accessorio più adatto alle tue esigenze, riservando le stesse attenzioni sia a un professionista che a un dilettante alle prime esperienze con uno strumento musicale.