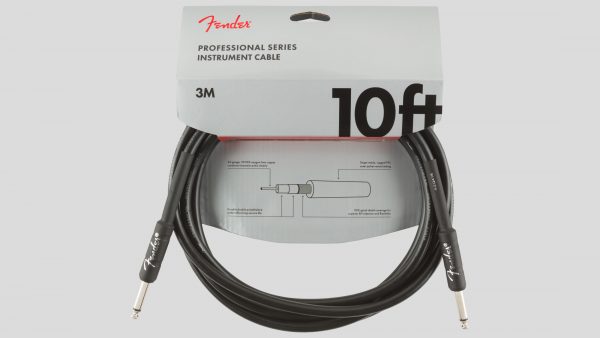 Fender 0990820024
€ 16
NUOVO CON 2 ANNI DI GARANZIA
DISPONIBILE IN PRONTA CONSEGNA
SPEDIZIONE € 9 OPPURE GRATUITA

SPEDIZIONE GRATUITA
se abbinato all'acquisto delle corde:
Corde per chitarra  (minimo 3 mute)
Corde per basso  (minimo 2 mute)
Fender Professional Cable Jack
Straight-Straight – 10 ft – 3 metri
0990820024 – Made in China


Fender 0990820024
Road-reliable and flexible, Fender Professional Series cables boast a thick gauge with high-quality components that transparently retain your tone without getting in the way. Sporting quiet and resilient spiral shielding, these cables are engineered to avoid twisting, kinking and any "physical memory." On stage or in the studio, plug in and play with creative confidence and peace of mind.
FEATURES
– Available in 6″, 1′, 3′, 5′, 10′, 15′, 18.6′ and 25′ lengths
– All Black PVC
– 8 mm outer diameter wire jacket
– 22 AWG
– 95% OFC spiral shielding
– Nickel-plated connectors
Affidabili e flessibili, i cavi della serie Fender Professional vantano un calibro spesso con componenti di alta qualità che trattengono in modo trasparente il tuo tono senza intralciare. Dotati di una schermatura a spirale silenziosa e resistente, questi cavi sono progettati per evitare torsioni, attorcigliamenti e qualsiasi "memoria fisica". Sul palco o in studio, collega e suona con fiducia creativa e tranquillità.