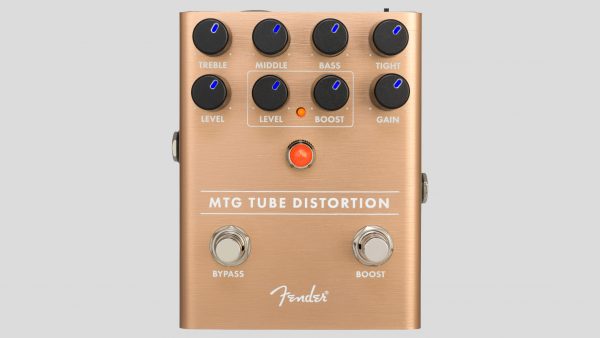 Fender 0234539000
€ 144
NUOVO CON 2 ANNI DI GARANZIA
DISPONIBILE SU ORDINAZIONE
SPEDIZIONE € 9 OPPURE GRATUITA
SPEDIZIONE GRATUITA
se abbinato all'acquisto delle corde:
Corde per chitarra  (minimo 3 mute)
Corde per basso  (minimo 2 mute)
SPEDIZIONE GRATUITA
se abbinato all'acquisto di un altro articolo:
pickup, pedale, chitarra, basso, ampli,
custodia rigida, custodia morbida (no 405)
(no tracolle, cavi, t-shirt, piccoli accessori)
Fender MTG Tube Distortion
0234539000 – Made in China


Fender 0234539000
Many pedals try to emulate the sound of tube breakup; we decided instead of emulating tube distortion, we'd use actual vacuum tubes and give you the real deal in a compact pedal. The heart of the MTG's design is a NOS (New Old Stock) US-made 6205 preamp tube. 3-Band EQ with Tight control and switchable boost—with its own Level and Boost controls—makes it easy to dial-in just the right sound.
FEATURES
– Real tube driven distortion pedal
– NOS 6205 preamp tube
– 3 Band EQ; Boost with Gain and Level controls
– LED-backlit knobs; Fender Amp Jewel LED
– Standard 9 VDC center-negative power connection
STAGE-READY CONSTRUCTION
Every Fender effects pedal is crafted from lightweight, durable anodized aluminum-they'll easily withstand the rigors of touring.