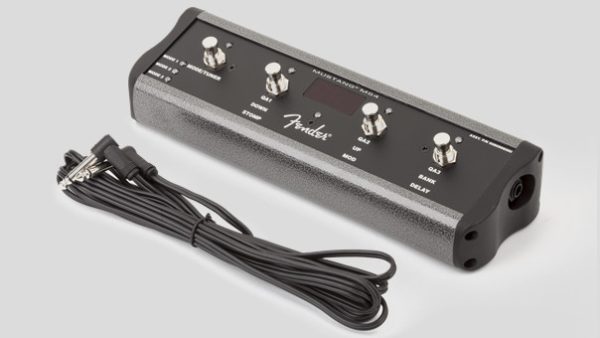 Fender 0080996000
€ 69 
NUOVO CON 2 ANNI DI GARANZIA
DISPONIBILE SU ORDINAZIONE
SPEDIZIONE € 9 OPPURE GRATUITA
SPEDIZIONE GRATUITA
se abbinato all'acquisto delle corde:
Corde per chitarra  (minimo 3 mute)
Corde per basso  (minimo 2 mute)
SPEDIZIONE GRATUITA
se abbinato all'acquisto di un altro articolo:
pickup, pedale, chitarra, basso, ampli,
custodia rigida, custodia morbida (no 405)
(no tracolle, cavi, t-shirt e piccoli accessori)
Fender MS-4 Footswitch
0080996000 – Made in China


Fender 0080996000
GET THE MOST OUT OF YOUR MUSTANG AMP!
Restore your contemporary Fender amp's footswitch functionality with a genuine replacement Fender footswitch. Features 1/4″ plug and 12-foot cable.
Used for: Mustang III, Mustang IV, Mustang V Head, Mustang LT50
FEATURES
– Select Quick Access presets (QA1/QA2/QA3)
– Select presets (up/down/bank)
– Bypass effects
– Activate the tuner
– Compatible with Mustang III, Mustang IV, Mustang V head and Mustang GT
OTTIENI IL MASSIMO DAL TUO AMPLIFICATORE MUSTANG!
Ripristina la funzionalità dell'interruttore a pedale del tuo amplificatore Fender contemporaneo con un interruttore a pedale Fender di ricambio originale. Dispone di spina da 1/4″ e cavo da 12 piedi.
Usato per: Mustang III, Mustang IV, Mustang V Testa, Mustang LT50
CARATTERISTICHE
– Seleziona i preset di accesso rapido (QA1/QA2/QA3)
– Seleziona i preset (su/giù/banco)
– Effetti di bypass
– Attiva il sintonizzatore
– Compatibile con Mustang III, Mustang IV, testata Mustang V e Mustang GT