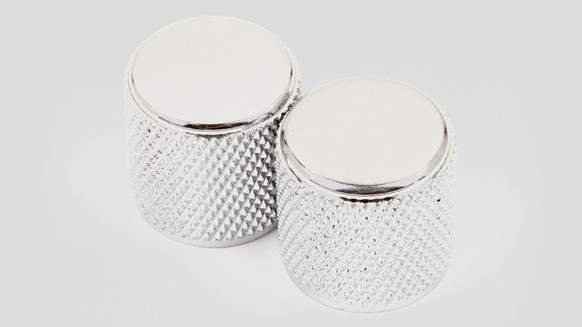 Fender 0991366000
€ 23
NUOVO CON 2 ANNI DI GARANZIA
DISPONIBILE IN PRONTA CONSEGNA
SPEDIZIONE € 9 OPPURE GRATUITA
SPEDIZIONE GRATUITA
se abbinato all'acquisto delle corde:
Corde per chitarra  (minimo 3 mute)
Corde per basso  (minimo 2 mute)
Fender Knurled Knobs
for Telecaster and Precision Bass
Made in Usa – 0991366000


Fender 0991366000
REPLACE, REPAIR AND RESTORE GENUINE FENDER PARTS
Need to replace a missing knob? Fender has what you need straight from our U.S.-made instruments. Package includes two knurled flat-top knobs and mounting set screws. Designed to fit most 1/4″ solid shaft potentiometers. Fits most Telecaster and Precision Bass instruments (US and Mexico) manufactured from '51-Present.
SOSTITUZIONE, RIPARAZIONE E RIPRISTINO: PARTI DI RICAMBIO ORIGINALI
Devi sostituire una manopola mancante? Fender ha ciò di cui hai bisogno direttamente dai nostri strumenti prodotti negli Stati Uniti. La confezione include due manopole piatte zigrinate e viti di fissaggio. Progettato per adattarsi alla maggior parte dei potenziometri ad albero solido da 1/4″. Si adatta alla maggior parte degli strumenti Telecaster e Precision Bass (USA e Messico) prodotti dal '51 ad oggi.
Dal 2002 Penne Music è un punto di riferimento in Italia per i musicisti. Specializzato in vendita di chitarre e bassi propone le marche più prestigiose per soddisfare una clientela di appassionati e professionisti: chitarre, bassi, amplificatori, accessori e tanto altro ancora.
Uno staff specializzato, guidato dalla passione e dalla professionalità del suo titolare Massimo Pennella, saprà guidarti nella ricerca dello strumento musicale o dell'accessorio più adatto alle tue esigenze, riservando le stesse attenzioni sia a un professionista che a un dilettante alle prime esperienze con uno strumento musicale.