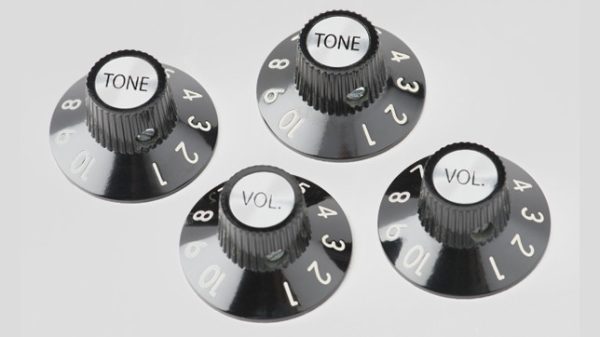 Fender 0054521049
€ 20
NUOVO CON 2 ANNI DI GARANZIA
DISPONIBILE IN PRONTA CONSEGNA
SPEDIZIONE € 9 OPPURE GRATUITA
SPEDIZIONE GRATUITA
se abbinato all'acquisto delle corde:
Corde per chitarra  (minimo 3 mute)
Corde per basso  (minimo 2 mute)
Fender Knobs for 70/72
Telecaster Custom/Deluxe
Made in Mexico – 0054521049


Fender 0054521049
REPLACE, REPAIR AND RESTORE GENUINE FENDER PARTS
Need to replace a missing knob? Fender has what you need. Package of four plastic 1-10 numbered knobs with mounting set screws. Includes two "Volume" and two "Tone" knobs. Designed to fit 1/4″ solid shaft potentiometers. Used on '70 Telecaster Custom e Deluxe. Can be fitted to nearly all 250K solid shaft controls.
SOSTITUZIONE, RIPARAZIONE E RIPRISTINO: PARTI DI RICAMBIO ORIGINALI
Devi sostituire una manopola mancante? Fender ha quello che ti serve. Confezione da quattro manopole numerate in plastica da 1 a 10 con viti di fissaggio. Include due manopole "Volume" e due "Tone". Progettato per adattarsi a potenziometri ad albero pieno da 1/4″. Usato su 70 Telecaster Custom e Deluxe. Può essere montato su quasi tutti i controlli ad albero solido 250K.
Dal 2002 Penne Music è un punto di riferimento in Italia per i musicisti. Specializzato in vendita di chitarre e bassi propone le marche più prestigiose per soddisfare una clientela di appassionati e professionisti: chitarre, bassi, amplificatori, accessori e tanto altro ancora.
Uno staff specializzato, guidato dalla passione e dalla professionalità del suo titolare Massimo Pennella, saprà guidarti nella ricerca dello strumento musicale o dell'accessorio più adatto alle tue esigenze, riservando le stesse attenzioni sia a un professionista che a un dilettante alle prime esperienze con uno strumento musicale.