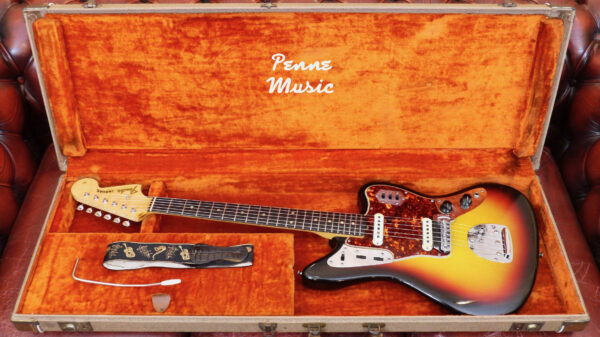 Fender Jaguar 1965 Sunburst
€ 10499 – USATA – SETUP GRATUITO
VENDUTA – 2023
SPEDIZIONE GRATUITA
CUSTODIA RIGIDA FENDER INCLUSA
Fender Jaguar 1965
Sunburst – Made in Usa
Custodia rigida originale
anno di produzione: gennaio 1965
condizioni estetiche: ottime
funzionamento: perfetto
tasti al 90% originali – peso: 3,75 kg
PRE-CBS, ORIGINALE IN OGNI SUA PARTE
TASTIERA IN PALISSANDRO BRASILIANO


Fender Jaguar 1965
Sunburst – Made in Usa
The Jaguar presents an exciting concept in the field of solid-body guitar. The neck of the Jaguar is a short 24″ scale containing 22 frets. A "Fender First" in the Jaguar is the Fender Mute. This movable striung Mute is attached to the bridge and may be activated or disengaged by a light fingertouch. Other features of the Jaguar are: newly designed wide-range pickups, adjustable bridges, on-off switches with controls, rhythm circuit, Fender "Floating Tremolo". "Off-set" waist design, and adjustable neck truss rod. The Jaguar is unhesitatingly recommended to those desiring wide instrument versatility.
Dal 2002 Penne Music è un punto di riferimento in Italia per i musicisti. Specializzato in vendita di chitarre e bassi propone le marche più prestigiose per soddisfare una clientela di appassionati e professionisti: chitarre, bassi, amplificatori, accessori e tanto altro ancora.
Uno staff specializzato, guidato dalla passione e dalla professionalità del suo titolare Massimo Pennella, saprà guidarti nella ricerca dello strumento musicale o dell'accessorio più adatto alle tue esigenze, riservando le stesse attenzioni sia a un professionista che a un dilettante alle prime esperienze con uno strumento musicale.