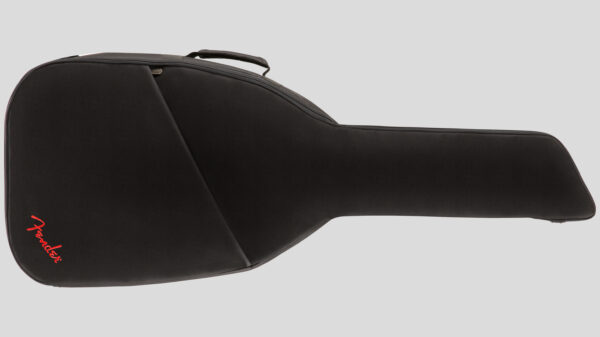 Fender 0991332406
€ 39 
NUOVA CON 2 ANNI DI GARANZIA
DISPONIBILE IN PRONTA CONSEGNA
SPEDIZIONE € 15 OPPURE GRATUITA

SPEDIZIONE GRATUITA
se abbinato all'acquisto delle corde:
Corde per chitarra  (minimo 3 mute)
Corde per basso  (minimo 2 mute)
Fender FA405 Dreadnought Gig Bag
– Custodia morbida per chitarra
acustica folk e simili, imbottitura
5 mm, tessuto 400 denari –
Made in China – 0991332406


Fender 0991332406
Fender's F405 Series gig bag is a stylish and affordable way to keep your dreadnought acoustic guitar safe while traveling. Its durable outer layer is constructed of tough 400 Denier polyester that protects against impacts and also avoids ripping and tearing. Its interior is filled with 5mm padding lined with soft nylon that keeps your instrument snug and secure while preventing potential finish damage.The F405 gig bag also comes with a comfortable two-piece handle and ergonomic backpack straps, so you can comfortably carry your instrument without any unnecessary physical strain. Plus, the front slip pocket offers additional storage for small accessories.
FEATURES
– 400 Denier polyester; 5mm padding lined with soft nylon
– Comfortable two-piece handle
– Ergonomic backpack straps
– ID tag holder; front slip pocket
Dal 2002 Penne Music è un punto di riferimento in Italia per i musicisti. Specializzato in vendita di chitarre e bassi propone le marche più prestigiose per soddisfare una clientela di appassionati e professionisti: chitarre, bassi, amplificatori, accessori e tanto altro ancora.
Uno staff specializzato, guidato dalla passione e dalla professionalità del suo titolare Massimo Pennella, saprà guidarti nella ricerca dello strumento musicale o dell'accessorio più adatto alle tue esigenze, riservando le stesse attenzioni sia a un professionista che a un dilettante alle prime esperienze con uno strumento musicale.