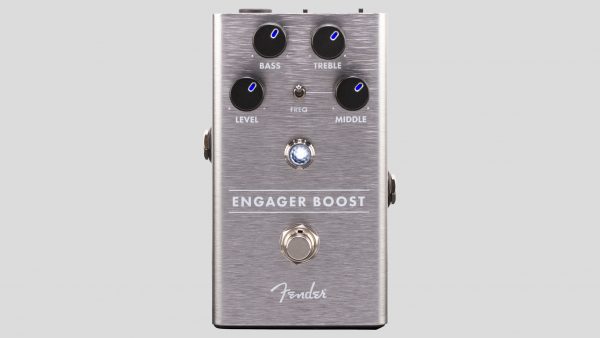 Fender 0234536000
€ 79
NUOVO CON 2 ANNI DI GARANZIA
DISPONIBILE SU ORDINAZIONE
SPEDIZIONE € 9 OPPURE GRATUITA
SPEDIZIONE GRATUITA
se abbinato all'acquisto delle corde:
Corde per chitarra  (minimo 3 mute)
Corde per basso  (minimo 2 mute)
SPEDIZIONE GRATUITA
se abbinato all'acquisto di un altro articolo:
pickup, pedale, chitarra, basso, ampli,
custodia rigida, custodia morbida (no 405)
(no tracolle, cavi, t-shirt, piccoli accessori)
Fender Engager Boost
0234536000 – Made in China


Fender 0234536000
Every now and then you need to kick your sound up a notch. Whether you're looking for more volume or fatter tone, the Engager Boost is the ideal clean boost pedal. The onboard 3-band EQ lets you shape your tone to cut through a mix while the Frequency switch lets you select the middle frequency range, ideal for shaping your tone precisely. The Engager Boost is also perfect for boosting your signal into a tube amplifier's preamp, thickening your tone. True and buffered bypass modes ensure this pedal plays nicely in any rig.
FEATURES
– Clean Boost effect pedal
– Onboard 3-Band EQ; true or buffered bypass
– LED-backlit knobs; Fender Amp Jewel LED
– Magnetically latched hinged 9V battery door
– Lightweight durable anodized aluminum construction
STAGE-READY CONSTRUCTION
Every Fender effects pedal is crafted from lightweight, durable anodized aluminum-they'll easily withstand the rigors of touring.