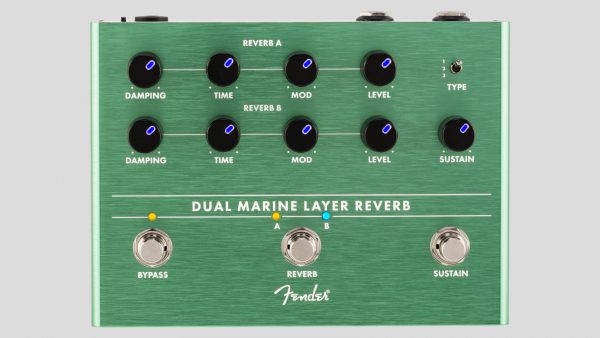 Fender 0234563000
€ 179
NUOVO CON 2 ANNI DI GARANZIA
DISPONIBILE SU ORDINAZIONE
SPEDIZIONE € 9 OPPURE GRATUITA
SPEDIZIONE GRATUITA
se abbinato all'acquisto delle corde:
Corde per chitarra  (minimo 3 mute)
Corde per basso  (minimo 2 mute)
SPEDIZIONE GRATUITA
se abbinato all'acquisto di un altro articolo:
pickup, pedale, chitarra, basso, ampli,
custodia rigida, custodia morbida (no 405)
(no tracolle, cavi, t-shirt, piccoli accessori)
Fender Dual Marine Layer Reverb
0234563000 – Made in China


Fender 0234563000
Fender and Reverb – name a more iconic musical duo. Fender's Dual Marine Layer allows you to add even more dimension to your sonic arsenal. Featuring two independent footswitchable settings, three unique reverb algorithms allow the user to create multiple soundscapes. The sustain switch generates massive atmospheric creations for an out-of-this-world tonal experience.
Designed by Fender's in-house tone gurus, the Dual Marine Layer is an all-original Fender circuit. The chassis is crafted from lightweight, durable anodized aluminum, and the LED-backlit knobs show your control settings on a dark stage at a glance.
FEATURES
– Beautiful Marine Layer reverb sounds
– Two Presets/Channels
– Sustain Footswitch
– Analog dry path
– LED backlit knobs
– Lightweight durable anodized aluminum construction
STAGE-READY CONSTRUCTION
Every Fender effects pedal is crafted from lightweight, durable anodized aluminum-they'll easily withstand the rigors of touring.