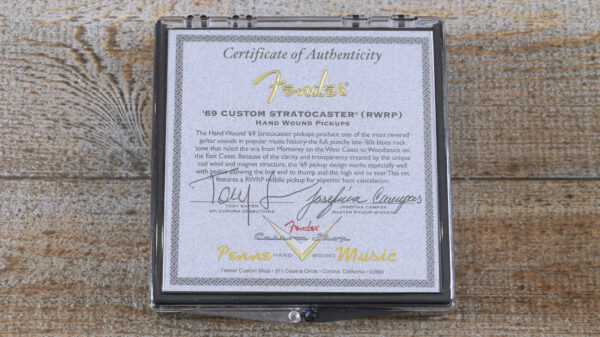 Fender Custom Shop 0992286000
€ 1199
NUOVO CON 2 ANNI DI GARANZIA
DISPONIBILE IN PRONTA CONSEGNA
SPEDIZIONE GRATUITA
Fender Custom Shop 69 Custom
Josefina Campos Hand-Wound
Stratocaster Pickup Set
0992286000 – Made in Usa


Fender Custom Shop 0992286000
THE SOUND OF WOODSTOCK
As Heard on Various Fender Custom Shop Stratocaster guitars
Fender Custom Shop Custom '69 Strat single-coil pickups produce the full, punchy tone that defined rock in the late '60s. Especially effective with pedals.
Tonal Characteristics:
Enamel-coated magnet wire delivers warm vintage-style tones. Staggered polepieces balance volume and output across every string. Alnico 5 magnets add more focus and enhanced dynamics.
Product Detail:
Period-correct cloth wire and gray fiber bobbin construction. Available with white pickup covers. Included Components.
Fender Custom Shop Custom '69 Strat pickups come with all parts needed for installation, including:
Mounting screws
Pickup height adjustment tubing
Wiring diagram
Output Rating
(Bass / Mid / Treble)
5 / 4 / 5
DC Resistance
5.8 k ohms
Inductance
2.2 henries
PICKUPS
Style: Custom Shop
Configuration: SSS
Cover Color: White Pickup Covers
Magnet Type: Alnico 5
Magnet Wire: Enamel-coated
DC Resistance: 5.8K
Inductance: 2.2 Henries
Bobbin Material: Fiber
Lead Wire: Cloth-covered
Pole Pieces: Staggered
Tone: Vintage
Output: Vintage (1 out of 5)
Other Features: Recommended for Blues, Rock, Classic Rock, Country, and Pop.
Penne Music è rivenditore autorizzato Fender Custom Shop
Fender Custom Shop Josefina Campos 69 Custom Stratocaster Hand-Wound Pickup Set

www.pennemusic.com/fender-custom-shop-josefina-campos-69-custom-stratocaster-hand-wound-pickup-set

Pubblicato da Penne Music su Mercoledì 17 febbraio 2021