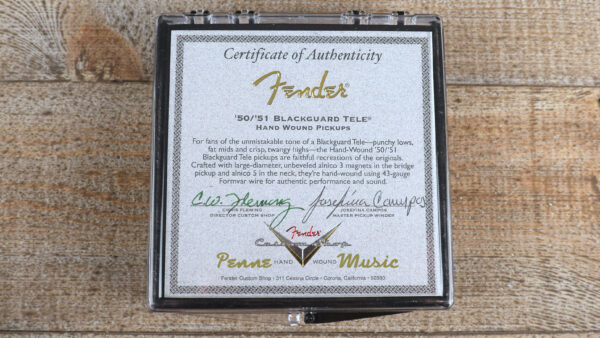 Fender Custom Shop 0992274000
€ 449
NUOVO CON 2 ANNI DI GARANZIA
VENDUTO – FUORI PRODUZIONE – 2020
SPEDIZIONE € 9 OPPURE GRATUITA
SPEDIZIONE GRATUITA
se abbinato all'acquisto delle corde:
Corde per chitarra  (minimo 3 mute)
Corde per basso  (minimo 2 mute)
SPEDIZIONE GRATUITA
se abbinato all'acquisto di un altro articolo:
pickup, pedale, chitarra, basso, ampli,
custodia rigida, custodia morbida (no 405)
(no tracolle, cavi, t-shirt, piccoli accessori)
Fender Custom Shop 50/51 Blackguard
Josefina Campos Hand-Wound
Telecaster Pickup Set
0992274000 – Made in Usa


Fender Custom Shop 0992274000
If you're looking for a Telecaster Pickup set that packs a strong bite but with no sacrifice to clarity? Then look no further than these Hand-Wound '50/51′ Blackguard Telecaster pickup set by Josefina Campos, Fender Custom Shop's Master pickup winder.
Josefina Campos is known as being one of the Fender Custom Shops best pickups winders having learned her craft from legendary winder Abigail Ybarra who learned herself from the incredible Leo Fender himself. If you want high quality and pedigree then this is where you want to be!
The Fender Custom Shop Josefina Campos Handwound '50/'51 set produce a tone unlike any mass produced set, with unparalleled depth and articulation you will definitely stand out in any situation, whether live or bedroom practising.
If a traditional tone with clarity and bite is what you require, then this is most definitely the solution.
Penne Music è rivenditore autorizzato Fender Custom Shop
Fender Custom Shop Josefina Campos 50/51 Telecaster Hand-Wound Pickup Set

www.pennemusic.com/fender-custom-shop-josefina-campos-50-51-blackguard-telecaster-hand-wound-pickup-set

Pubblicato da Penne Music su Martedì 28 gennaio 2020