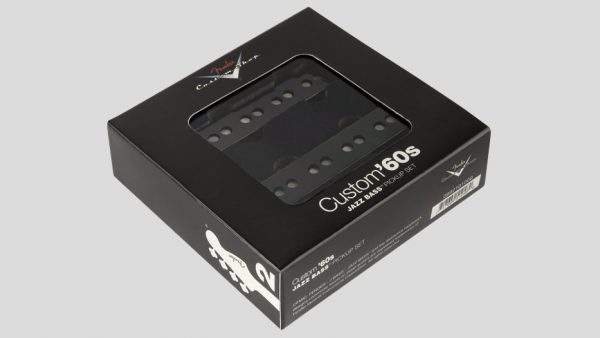 Fender Custom Shop 0992101000
€ 159
NUOVO CON 2 ANNI DI GARANZIA
DISPONIBILE A BREVE
SPEDIZIONE € 9 OPPURE GRATUITA
SPEDIZIONE GRATUITA
se abbinato all'acquisto delle corde:
Corde per chitarra  (minimo 3 mute)
Corde per basso  (minimo 2 mute)
SPEDIZIONE GRATUITA
se abbinato all'acquisto di un altro articolo:
pickup, pedale, chitarra, basso, ampli,
custodia rigida, custodia morbida (no 405)
(no tracolle, cavi, t-shirt, piccoli accessori)
Fender Custom Shop
60 Jazz Bass Pickup Set
0992101000 – Made in Usa
– manuale, viti e gommini inclusi –


Fender Custom Shop 0992101000
CLEAN, CLEAR AND CLASSIC
As Heard on Fender American Standard Jazz Bass guitars
Fender Custom '60s Jazz Bass pickups are over-wound for high output, delivering balanced midrange and low end, and classic Jazz Bass snarl and punch.
TONAL CHARACTERISTICS
Formvar magnet wire improves overall brightness
Flush-mount magnets produce even string response
Alnico 5 magnets add more focus and enhanced dynamics
PRODUCT DETAILS
Period-correct cloth output wire and fiber bobbin construction. Available with black pickup covers. Included Components.
Fender Custom '60s Jazz Bass pickups come with all parts needed for installation, including:
Mounting screws
Pickup height adjustment tubing
Wiring diagram
Output Rating
(Bass / Mid / Treble)
Neck: 6 / 4 / 4
Bridge: 6 / 4 / 4
DC Resistance
Neck: 7.1 k ohms
Bridge: 7.4 k ohms
Penne Music è rivenditore autorizzato Fender Custom Shop