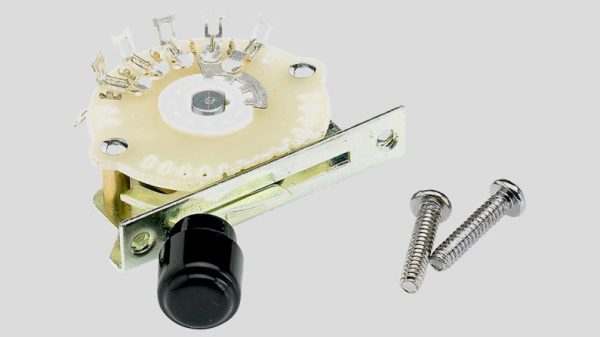 Fender 0992250000
€ 26
NUOVO CON 2 ANNI DI GARANZIA
DISPONIBILE IN PRONTA CONSEGNA
SPEDIZIONE € 9 OPPURE GRATUITA
SPEDIZIONE GRATUITA
se abbinato all'acquisto delle corde:
Corde per chitarra  (minimo 3 mute)
Corde per basso  (minimo 2 mute)
Fender 4-Position Custom Shop
Telecaster Pickup Selector Switch
(Package includes one
black Original Tele tip)
Made in Usa – 0992250000


Fender 0992250000
REPLACE, REPAIR AND RESTORE GENUINE FENDER PARTS
Whether replacing a worn switch or just adding tonal variety to your favorite instrument, Fender offers high-quality switches with knobs and mounting hardware. Used on many Custom Shop instruments, this switch allows you to change your Telecaster pickup wiring from Series to Parallel for increased output and a fatter tone with the flick of a switch. 
SOSTITUZIONE, RIPARAZIONE E RIPRISTINO: PARTI DI RICAMBIO ORIGINALI
Che si tratti di sostituire un interruttore usurato o semplicemente di aggiungere varietà tonale al tuo strumento preferito, Fender offre interruttori di alta qualità con manopole e hardware di montaggio. Utilizzato su molti strumenti Custom Shop, questo interruttore ti consente di cambiare il cablaggio del pickup Telecaster da serie a parallelo per una maggiore uscita e un tono più grasso con il semplice tocco di un interruttore.
Dal 2002 Penne Music è un punto di riferimento in Italia per i musicisti. Specializzato in vendita di chitarre e bassi propone le marche più prestigiose per soddisfare una clientela di appassionati e professionisti: chitarre, bassi, amplificatori, accessori e tanto altro ancora.
Uno staff specializzato, guidato dalla passione e dalla professionalità del suo titolare Massimo Pennella, saprà guidarti nella ricerca dello strumento musicale o dell'accessorio più adatto alle tue esigenze, riservando le stesse attenzioni sia a un professionista che a un dilettante alle prime esperienze con uno strumento musicale.