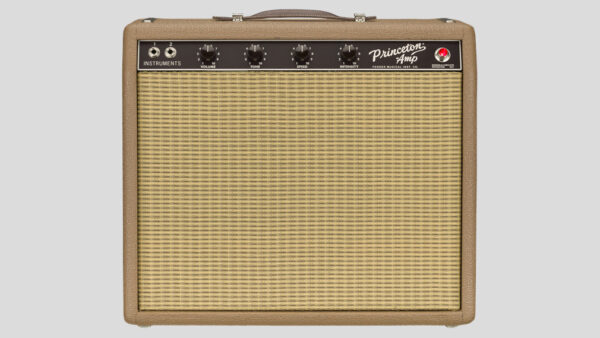 Fender 8151806000
€ 2299
NUOVO CON 2 ANNI DI GARANZIA
DISPONIBILE SU ORDINAZIONE
SPEDIZIONE GRATUITA
Fender Chris Stapleton 62 Princeton
– amplificatore valvolare per
chitarra, cablato a mano –
12 watt – 1×12″ Eminence Special Design
Made in Usa – 8151806000
– 1-Button Footswitch e Cover inclusi –


Grazie alla sua sensibilità e al tremolo fluido e organico, l'amplificatore '62 Princeton Brown è diventato da tempo una delle scelte preferite per lo studio e il compagno ideale per il musicista country vincitore di Grammy Chris Stapleton. Il '62 Princeton Chris Stapleton Edition cablato a mano unisce il classico circuito 6G2 con le caratteristiche preferite di Stapleton e i tocchi estetici scelti personalmente dall'artista.
Fender 8151806000
ELECTRONICS
Voltage: 230V EUR
Wattage: 12 Watts
Controls: Volume, Tone, Speed, Intensity
Channels: One
Inputs: Two – (1/4″, Input 2 operates at -6dB)
Speaker Jack: Two 1/4″ Parallel (Internal and External)
Effects: Tremolo
HARDWARE
Cabinet Material: Solid Pine
Amplifier Covering: Brown Textured Vinyl
Grille Cloth: Wheat
Amplifier Jewel: Red Jewel
Front Panel: Brown
Handle: Vintage-Style Leather with Nickel Mounting Hardware
MISCELLANEOUS
Other Features: Classic 6G2 Circuit, Hand-Wired, Fender Vintage "Blue" Tone Caps, Schumacher Transformers, Tube-Biased Tremolo, Solid Pine Cabinet, Engraved Brass Plate with Chris Stapleton's Signature.
SPEAKERS
Speakers: One – 12″ Eminence Special Design
Total Impedance: 8 ohms
TUBES
Preamp Tubes: 2 x 12AX7
Power Tubes: 2 x 6V6
Rectifier: Tube (1 x 5Y3)
ACCESSORIES
Footswitch: 1-Button Footswitch Included
Included Accessories: 1-Button Footswitch, Filson Heavy Fabric Cover
MEASUREMENTS
Height: 16″ (40.6 cm)
Depth: 9.4″ (23.88 cm)
Width: 18.9″ (48.01 cm)
Weight: 33.25 lbs. (15.08 kg)