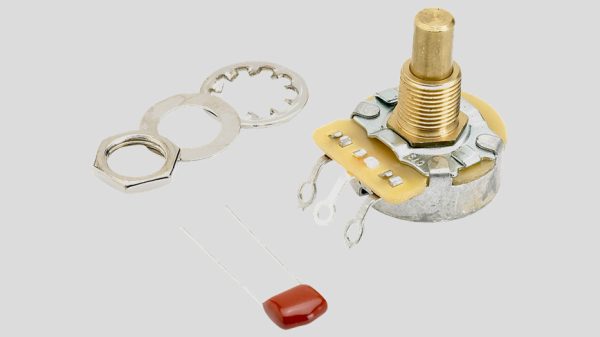 Fender 0990835000
€ 12
NUOVO CON 2 ANNI DI GARANZIA
DISPONIBILE IN PRONTA CONSEGNA
SPEDIZIONE € 9 OPPURE GRATUITA
SPEDIZIONE GRATUITA
se abbinato all'acquisto delle corde:
Corde per chitarra  (minimo 3 mute)
Corde per basso  (minimo 2 mute)
Fender 500k Solid Shaft Pot
Made in Taiwan – 0990835000


Fender 0990835000
REPLACE, REPAIR AND RESTORE GENUINE FENDER PARTS
Top-quality potentiometers used on U.S. Fender instruments. The 500k is usually associated with most humbucking pickups. 3/8″ potentiometer shaft. Solid shaft design. Works with set screw mounting knobs. Mounting nut, washer, and .022mf 250V capacitor included. Fits nearly all Fender instruments (USA and Mexico) requiring a solid-shaft potentiometer.
SOSTITUZIONE, RIPARAZIONE E RIPRISTINO: PARTI DI RICAMBIO ORIGINALI
Potenziometri di alta qualità utilizzati sugli strumenti Fender statunitensi. Il 500k è solitamente associato alla maggior parte dei pickup humbucking. Albero del potenziometro da 3/8″. Design ad albero solido. Funziona con manopole di montaggio a vite di fermo. Dado di montaggio, rondella e condensatore da 0,022mf 250V inclusi. Si adatta a quasi tutti gli strumenti Fender (USA e Messico) che richiedono un potenziometro ad albero pieno.
Dal 2002 Penne Music è un punto di riferimento in Italia per i musicisti. Specializzato in vendita di chitarre e bassi propone le marche più prestigiose per soddisfare una clientela di appassionati e professionisti: chitarre, bassi, amplificatori, accessori e tanto altro ancora.
Uno staff specializzato, guidato dalla passione e dalla professionalità del suo titolare Massimo Pennella, saprà guidarti nella ricerca dello strumento musicale o dell'accessorio più adatto alle tue esigenze, riservando le stesse attenzioni sia a un professionista che a un dilettante alle prime esperienze con uno strumento musicale.