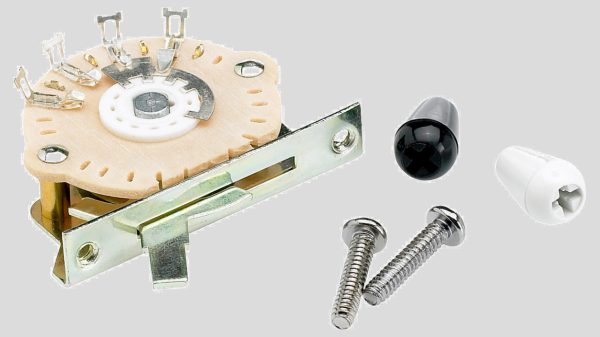 Fender 0991367000
€ 17
NUOVO CON 2 ANNI DI GARANZIA
DISPONIBILE IN PRONTA CONSEGNA
SPEDIZIONE € 9 OPPURE GRATUITA
SPEDIZIONE GRATUITA
se abbinato all'acquisto delle corde:
Corde per chitarra  (minimo 3 mute)
Corde per basso  (minimo 2 mute)
Fender 5-Position Modern-Style
Strato Tele Pickup Selector Switch
(Package includes one white
and one black switch tip)
Made in Mexico – 0991367000


Fender 0991367000
REPLACE, REPAIR AND RESTORE GENUINE FENDER PARTS
Whether replacing a worn switch or just adding tonal variety to your favorite instrument, Fender offers high-quality switches with knobs and mounting hardware. Package includes one white Strat tip and one black Original Tele tip.
SOSTITUZIONE, RIPARAZIONE E RIPRISTINO: PARTI DI RICAMBIO ORIGINALI
Che si tratti di sostituire un interruttore usurato o semplicemente di aggiungere varietà tonale al tuo strumento preferito, Fender offre interruttori di alta qualità con manopole e hardware di montaggio. La confezione include una punta Strat bianca e una punta Tele originale nera.
Dal 2002 Penne Music è un punto di riferimento in Italia per i musicisti. Specializzato in vendita di chitarre e bassi propone le marche più prestigiose per soddisfare una clientela di appassionati e professionisti: chitarre, bassi, amplificatori, accessori e tanto altro ancora.
Uno staff specializzato, guidato dalla passione e dalla professionalità del suo titolare Massimo Pennella, saprà guidarti nella ricerca dello strumento musicale o dell'accessorio più adatto alle tue esigenze, riservando le stesse attenzioni sia a un professionista che a un dilettante alle prime esperienze con uno strumento musicale.