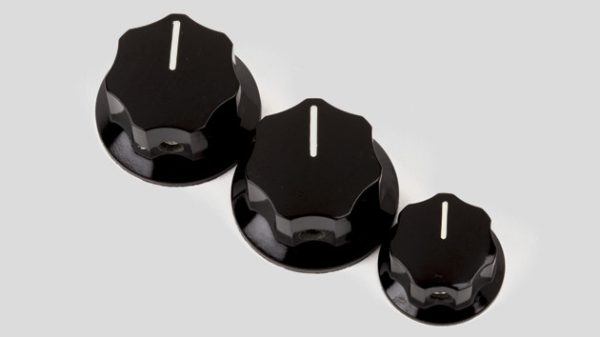 Fender 0991370000
€ 15
NUOVO CON 2 ANNI DI GARANZIA
DISPONIBILE DA LUGLIO
SPEDIZIONE € 9 OPPURE GRATUITA
SPEDIZIONE GRATUITA
se abbinato all'acquisto delle corde:
Corde per chitarra  (minimo 3 mute)
Corde per basso  (minimo 2 mute)
Fender 2 Large 1 Small Knobs
for Jazz Bass
Made in Usa – 0991370000


Fender 0991370000
REPLACE, REPAIR AND RESTORE GENUINE FENDER PARTS
Need to replace a missing knob? Fender has what you need straight from our U.S.-made instruments. Set of 3 (Volume, Volume, Tone) black knobs with set screws and white indicator lines. Designed to fit 1/4″ split shaft potentiometers. Fits most Jazz Bass models (US and Mexico) manufactured from 1964-Present.
SOSTITUZIONE, RIPARAZIONE E RIPRISTINO: PARTI DI RICAMBIO ORIGINALI
Set di 3 manopole nere (volume, volume, tono) e linee indicatrici bianche. Progettato per adattarsi a potenziometri con albero diviso da 1/4″. Si adatta alla maggior parte dei modelli Jazz Bass (USA e Messico) prodotti dal 1964 ad oggi.
Dal 2002 Penne Music è un punto di riferimento in Italia per i musicisti. Specializzato in vendita di chitarre e bassi propone le marche più prestigiose per soddisfare una clientela di appassionati e professionisti: chitarre, bassi, amplificatori, accessori e tanto altro ancora.
Uno staff specializzato, guidato dalla passione e dalla professionalità del suo titolare Massimo Pennella, saprà guidarti nella ricerca dello strumento musicale o dell'accessorio più adatto alle tue esigenze, riservando le stesse attenzioni sia a un professionista che a un dilettante alle prime esperienze con uno strumento musicale.