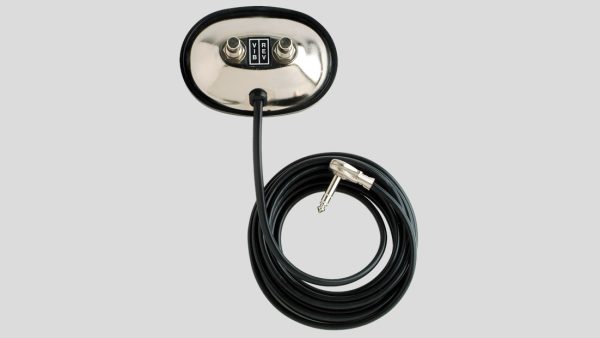 Fender 0994058000
€ 59
NUOVO CON 2 ANNI DI GARANZIA
DISPONIBILE IN PRONTA CONSEGNA
SPEDIZIONE € 9 OPPURE GRATUITA
SPEDIZIONE GRATUITA
se abbinato all'acquisto delle corde:
Corde per chitarra  (minimo 3 mute)
Corde per basso  (minimo 2 mute)
SPEDIZIONE GRATUITA
se abbinato all'acquisto di un altro articolo:
pickup, pedale, chitarra, basso, ampli,
custodia rigida, custodia morbida (no 405)
(no tracolle, cavi, t-shirt e piccoli accessori)
Fender 2-Button Vintage Footswitch
0994058000 – Made in Mexico


Fender 0994058000
REPLACE, REPAIR AND RESTORE – GENUINE FENDER PARTS
Order a replacement or add flexibility to your amp. Fender offers footswitches with RCA jacks for older Fender amplifiers and with 1/4″ plugs for contemporary amps. All footswitches come with 12′ of cable.
Used for: 63 Vibroverb, 64 Deluxe Reverb, 64 Princeton Reverb, 64 Vibroverb Custom, 65 Deluxe Reverb, 65 Princeton Reverb, 65 Super Reverb, 65 Twin Custom 15, 65 Twin Reverb, 68 Custom Deluxe Reverb, 68 Custom Princeton Reverb,  68 Custom Pro Reverb, 68 Custom Twin Reverb, 68 Custom Vibro Champ Reverb, Custom Vibrolux Reverb, Vibrasonic, Gretsch G6163 Executive Amp, Gretsch G6164 Variety Amp.
SOSTITUISCI, RIPARA E RIPRISTINA – PARTI PARAFANGO ORIGINALI
Ordina una sostituzione o aggiungi flessibilità al tuo amplificatore. Fender offre interruttori a pedale con jack RCA per i vecchi amplificatori Fender e con connettori da 1/4″ per gli amplificatori contemporanei. Tutti gli interruttori a pedale sono forniti con 12′ di cavo.