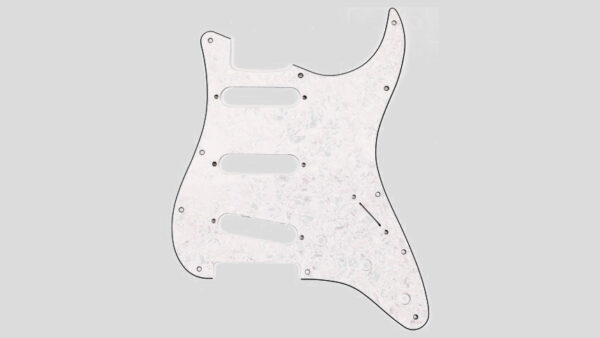 Fender 0992140000
€ 44
NUOVO CON 2 ANNI DI GARANZIA
DISPONIBILE SU ORDINAZIONE
SPEDIZIONE € 9 OPPURE GRATUITA
SPEDIZIONE GRATUITA
se abbinato all'acquisto delle corde:
Corde per chitarra  (minimo 3 mute)
Corde per basso  (minimo 2 mute)
SPEDIZIONE GRATUITA
se abbinato all'acquisto di un altro articolo:
pickup, pedale, chitarra, basso, ampli,
custodia rigida, custodia morbida (no 405)
(no tracolle, cavi, t-shirt, piccoli accessori)
Fender 11-Hole Modern-Style Stratocaster
SSS Pickguard White Pearl (4-Ply)
0992140000 – Made in Usa


Fender 0992140000
REPLACE, REPAIR AND RESTORE GENUINE FENDER PARTS
One of the really nice things about Fender instruments is that you can change the look of your instrument with relative ease. One of the easiest ways to accomplish this is to replace the pickguard. Fender offers a variety of pickguards in different colors and materials to help you add a personal touch to your favorite Fender instrument.
11-Hole mount modern-style pickguards. Shielded with second screw near middle pickup.
Designed to fit American Series/Standard/Deluxe/Select/Special and Highway 1 (USA), Road Worn, Deluxe Player, Blacktop, Standard, Deluxe and '70s (Mexico), Squier Standard Series (2004-Present), and Modern Player Series (China) models.
Dal 2002 Penne Music è un punto di riferimento in Italia per i musicisti. Specializzato in vendita di chitarre e bassi propone le marche più prestigiose per soddisfare una clientela di appassionati e professionisti: chitarre, bassi, amplificatori, accessori e tanto altro ancora.
Uno staff specializzato, guidato dalla passione e dalla professionalità del suo titolare Massimo Pennella, saprà guidarti nella ricerca dello strumento musicale o dell'accessorio più adatto alle tue esigenze, riservando le stesse attenzioni sia a un professionista che a un dilettante alle prime esperienze con uno strumento musicale.