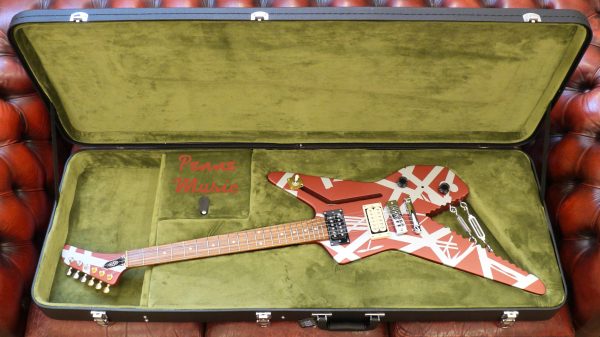 EVH 0227475100
€ 179
NUOVA CON 2 ANNI DI GARANZIA
DISPONIBILE SU ORDINAZIONE
SPEDIZIONE € 15 OPPURE GRATUITA
SPEDIZIONE GRATUITA
se abbinato all'acquisto delle corde:
Corde per chitarra  (minimo 3 mute)
Corde per basso  (minimo 2 mute)
SPEDIZIONE GRATUITA
se abbinato all'acquisto di un altro articolo:
pickup, pedale, chitarra, basso, ampli,
custodia rigida, custodia morbida (no 405)
(no tracolle, cavi, t-shirt, piccoli accessori)
EVH Shark Hardshell Case
– Custodia rigida per chitarra
elettrica Striped Series Shark –
Black with Green Plush Interior
0227475100 – Made in China


EVH 0227475100
EVH Shark Hardshell Case
This EVH case features a silkscreened logo on the lid, a molded green interior, internal storage compartment, and 3 chrome latches. A perfect fit for your Shark!
Dal 2002 Penne Music è un punto di riferimento in Italia per i musicisti. Specializzato in vendita di chitarre e bassi propone le marche più prestigiose per soddisfare una clientela di appassionati e professionisti: chitarre, bassi, amplificatori, accessori e tanto altro ancora.
Uno staff specializzato, guidato dalla passione e dalla professionalità del suo titolare Massimo Pennella, saprà guidarti nella ricerca dello strumento musicale o dell'accessorio più adatto alle tue esigenze, riservando le stesse attenzioni sia a un professionista che a un dilettante alle prime esperienze con uno strumento musicale.
Penne Music è rivenditore autorizzato EVH
Visualizza questo post su Instagram