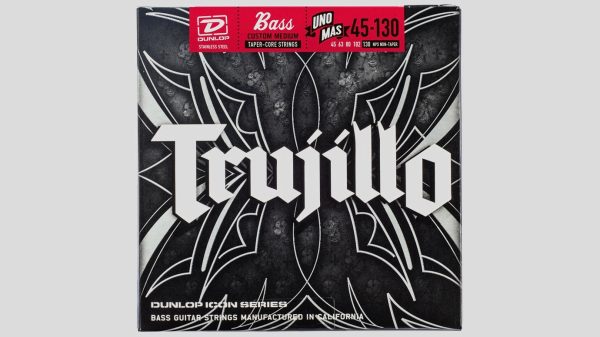 Dunlop RTT45130T
€ 39 – NUOVE
DISPONIBILE IN PRONTA CONSEGNA
SPEDIZIONE GRATUITA
Dunlop RTT45130T Robert Trujillo
2 mute di corde per basso elettrico (5 corde)
45-63T-85T-102T-130 – Made in Usa


Dunlop RTT45130T
THE LONG STORY
Robert Trujillo's powerful attack and monstrous tone have earned him the most coveted bass chairs in rock. The Robert Trujillo Icon Series Bass Strings were developed with Robert to give him the power and tonal flexibility to hold up under the demands of his rigorous playing schedule. These strings offer a clear articulate top end, solid midrange punch to cut through a wall of guitars, and more than enough focused bottom to knock you on your ass!
RTT45130T è la muta per basso elettrico 5 corde progettata da Jim Dunlop in collaborazione con il leggendario bassista dei Metallica Robert Trujillo. Il timbro potente, feroce e cristallino per il quale Trujillo è da sempre conosciuto racchiuso in questa muta.
Una scalatura molto particolare e personale 45 – 63 – 85 – 102 – 130 con altrettante peculiarità per ogni singola corda: D, A e E sono "Tapered", più sottili verso il ponte in modo da renderle più flessibili e grintose e tutte le corde sono rivestite in acciaio inossidabile eccetto la quinta corda (B) che è in Nickel.
La muta signature che Robert Trujillo monta sui suoi bassi 5 corde, offre un suono pulito e definito, dalle medie aggressive e delle basse controllate e solide.
Materiale: 45, 63T, 85T, 102T in Acciaio inossidabile, 130 in Nickel
Scalatura: Long Scale