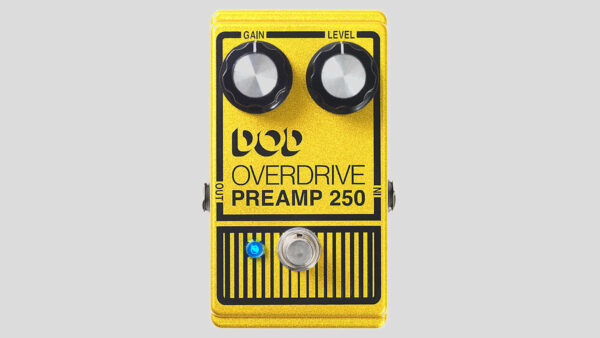 DOD-250
€ 89
NUOVO CON 2 ANNI DI GARANZIA
DISPONIBILE DA FINE GIUGNO
SPEDIZIONE € 9 OPPURE GRATUITA
SPEDIZIONE GRATUITA
se abbinato all'acquisto delle corde:
Corde per chitarra  (minimo 3 mute)
Corde per basso  (minimo 2 mute)
SPEDIZIONE GRATUITA
se abbinato all'acquisto di un altro articolo:
pickup, pedale, chitarra, basso, ampli,
custodia rigida, custodia morbida (no 405)
(no tracolle, cavi, t-shirt, piccoli accessori)
DOD Overdrive Preamp 250
Alimentatore originale DigiTech 9V DC
+ spedizione assicurata gratuita: + € 24


DOD-250
The classic returns, first conceived by David Oreste Defrancesco (DOD's namesake) in the '70's as a way to get distortion and boost without any of the downsides that came with some of the fuzzes of the era. This updated version uses the vintage correct LM741 OpAmp, just like back in the '70's. Modern appointments like a tough, light, pedalboard friendly aluminum chassis. standard power input jack, true bypass, LED indicator, and bullion gold powder-coat makes the 250 at home on any pedalboard.
– Based on original DOD 250 circuit design with updated components and functionality
– True Bypass and new crisp blue LED status indicator
– Lighter aluminum chassis
GAIN CONTROL
Control the amount of distortion.
LEVEL CONTROL
Dial in some subtle body for "always on" performance or boosting solos above a dense stage mix.
CRISP BLUE LED INDICATOR
Easily see if the pedal is active or not.