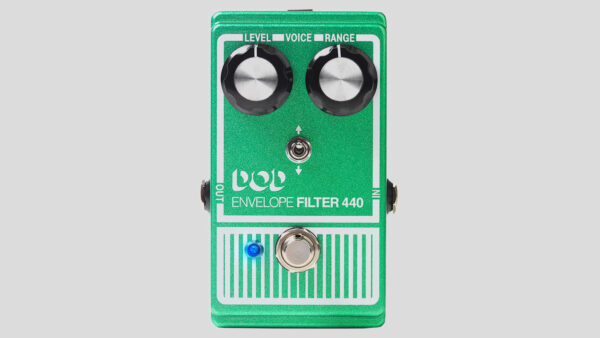 DOD-440
€ 89
NUOVO CON 2 ANNI DI GARANZIA
DISPONIBILE SU ORDINAZIONE
SPEDIZIONE € 9 OPPURE GRATUITA
SPEDIZIONE GRATUITA
se abbinato all'acquisto delle corde:
Corde per chitarra  (minimo 3 mute)
Corde per basso  (minimo 2 mute)
SPEDIZIONE GRATUITA
se abbinato all'acquisto di un altro articolo:
pickup, pedale, chitarra, basso, ampli,
custodia rigida, custodia morbida (no 405)
(no tracolle, cavi, t-shirt, piccoli accessori)
DOD Envelope Filter 440
Alimentatore originale DigiTech 9V DC
+ spedizione assicurata gratuita: + € 24


DOD-440
The 440 has all of the quack, squee, squonk, chicka, mwomp, and weeeooow, that you could ask for. It works equally well on guitar, bass, and keys. Use out for funky chordal work, simulated wah, or trippy drawn-out filter sweeps. While 440 is a faithful recreation of the vintage 440, the addition of the up/down toggle gives it a modern sonic twist.
– Based on original DOD Envelope Filter 440 circuit design with updated components
– True bypass and new crisp blue LED status indicator.
– Lighter aluminum chassis.
LEVEL CONTROL
Control the sensitivity of the envelope based upon your pick attack.
RANGE CONTROL
Control the frequency range of movement of the envelope's sweep.
UP / DOWN SWITCH
Choose which part of the sweep you want to emphasize.