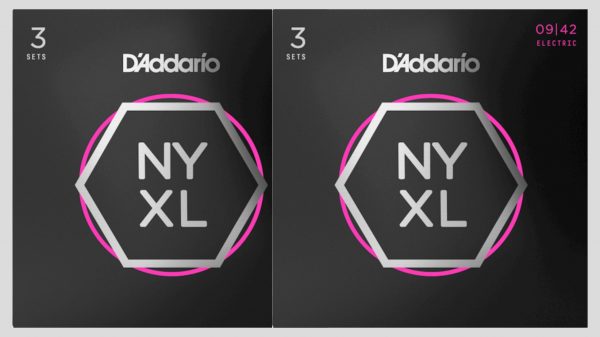 D'Addario NYXL0942-3P (x2)
€ 78 – NUOVE
DISPONIBILE IN PRONTA CONSEGNA
SPEDIZIONE GRATUITA
D'Addario NYXL0942-3P (x2) 9-42
6 mute di corde per chitarra elettrica
9-11-16-24-32-42 – Made in Usa


D'Addario NYXL0942-3P (x2)
9-42 Super Light 6-Pack
NYXL0942 is designed with super light gauges for maximum flexibility. The high carbon steel used in NYXL strings offers higher break strength, enhanced tuning stability, and accentuated mid-range frequency response.
D'Addario NYXL electric guitar strings will bend farther, sing louder, and stay in tune better than any string you've played before. Envisioned, perfected, and manufactured by D'Addario in New York, this precision-engineered, break-resistant, high-carbon steel core and plain steel alloy delivers a whole new level of freedom, confidence, and power.
NY STEEL
NY Steel is processed in D'Addario exclusive wire facility in Farmingdale, New York. Through advanced machinery and precesses, our premium high carbon steel delivers unmatched tuning stability and superior break resistance.
HEX CORE CONSTRUCTION
Precision drawn hexagonal core was pioneered by D'Addario. This innovation allows the wrap wire to grip the core for superior dimensional stability, enhanced durability, and precise intonation.
STRING WINDING TECHNOLOGY
String winding equipment is designed and built by D'Addario engineering team, guaranteeing a production range of 500.000 to 700.000 strings per day. Digitally-controlled string winding machines ensure productivity, accuracy, and consistency.
WIRE DRAWING
D'Addario in-house wire drawing machines produce musical instrument wire to our exact specifications. Control over materials, equipment, and quality allows us to deliver high performance products.