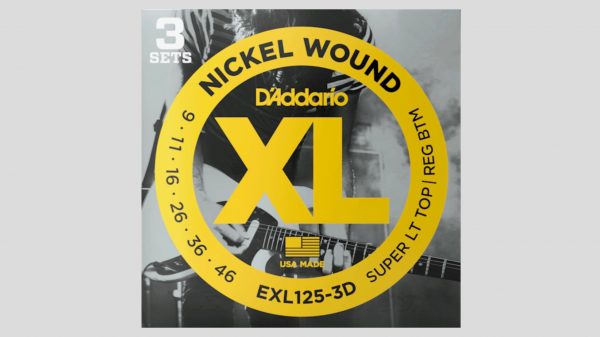 D'Addario EXL125-3D
€ 30 – NUOVE
DISPONIBILE IN PRONTA CONSEGNA
SPEDIZIONE GRATUITA
D'Addario EXL125-3D 9-46
3 mute di corde per chitarra elettrica
9-11-16-26-36-46 – Made in Usa


9-46 Super Light Top / Regular Bottom Set
EXL-125 is a hybrid gauge set that combines EXL120 for flexibility and EXL110 for more solid low end. XL Nickel Wound electric guitar strings, long recognized as the industry standard, are ideal for a wide range of musical styles.
D'Addario XLs are the standard against which all other strings are measured. Since 1974, XLs have been the world's go-to electric guitar string.
Drawn in-house with high carbon steel wire, XL strings are precision wound for unparalleled consistency. Proprietary Hex-Core innovation ensures perfect intonation, consistent feel, and reliable durability, producing a string which is revered by guitarists everywhere. 
NICKEL WOUND
The industry standard for good reason. Its consistent tone, playability, and long lifespan help keep your playing at its best.
Whether you're a shredder or a tenor, the backbeat of a band or the leader of a symphony, we make the tools that make your instrument perform on a higher level. While our family has been in the business of making strings since the 17th century, we've expanded into every form of music from woodwinds to percussion, orchestral to all fretted instruments. Our boundless curiosity and pioneering spirit continue to fuel our belief that there's a better sound, a better product out there. So you can keep pushing music and your instrument into exciting, unexpected, and extraordinary places.