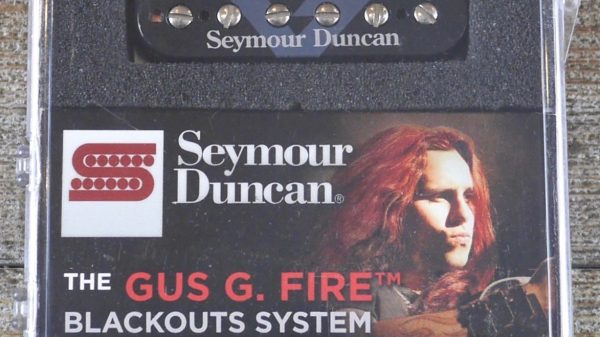 Seymour Duncan 11106-65-B
€ 129 – USATO
DISPONIBILE IN PRONTA CONSEGNA
SPEDIZIONE € 9 OPPURE GRATUITA
SPEDIZIONE GRATUITA
se abbinato all'acquisto delle corde:
Corde per chitarra  (minimo 3 mute)
Corde per basso  (minimo 2 mute)
SPEDIZIONE GRATUITA
se abbinato all'acquisto di un altro articolo:
pickup, pedale, chitarra, basso, ampli,
custodia rigida, custodia morbida (no 405)
(no tracolle, cavi, t-shirt e piccoli accessori)
Seymour Duncan AHB-11S
Gus G. Fire Blackouts
System Humbucker Set
11106-65-B – Made in Usa
condizioni estetiche: perfette
funzionamento: perfetto


Seymour Duncan 11106-65-B
Combines active and passive. The Gus G. Fire Blackouts System is a matched set of two passive humbucking pickups and a dual preamp that replaces one of the guitar's volume pots.

Traditional humbucker design with individual pole pieces provides the note definition and string-to-string feel of passive pickups.
Alnico 5 magnets deliver rich, detailed tones. The bridge pickup's larger magnet adds more low-mids for fatter, fuller-sounding leads.
Custom-wound coils create a remarkably open, airy sound.
Blackouts Modular Preamp• A high-output, low-noise differential dual preamp captures every nuance of the passive-style pickups—with plenty of headroom. Most other active preamps clip too easily, decimating your dynamics.
Long battery life. A single 9-volt battery provides approximately 750 hours of playing time.
Bare-wire lockdown connectors. Uses the same solderless connectors as our Liberator Pickup Change System. No soldering required if replacing existing active pickups. Screwdriver included.
Includes three additional 25K potentiometers for users who are replacing passive pickups.
Organic sound. Instead of tone that sounds as if it was created by a preamp, you'll hear the wood of your guitar. You'll hear your picking style. You'll hear you.
Pickups hand-made in Santa Barbara, California. Preamp made in the USA.