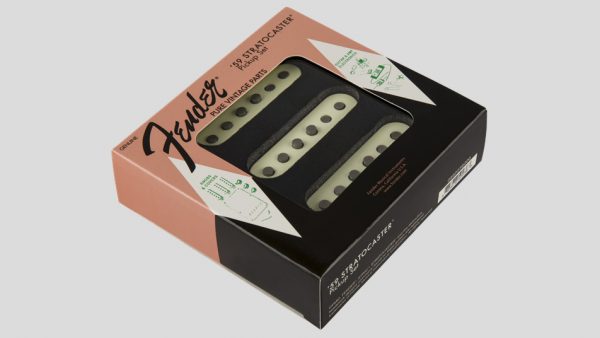 Fender 0992236000
€ 69
NUOVO CON 2 ANNI DI GARANZIA
DISPONIBILE IN PRONTA CONSEGNA
SPEDIZIONE € 9 OPPURE GRATUITA
SPEDIZIONE GRATUITA
se abbinato all'acquisto delle corde:
Corde per chitarra  (minimo 3 mute)
Corde per basso  (minimo 2 mute)
SPEDIZIONE GRATUITA
se abbinato all'acquisto di un altro articolo:
pickup, pedale, chitarra, basso, ampli,
custodia rigida, custodia morbida (no 405)
(no tracolle, cavi, t-shirt, piccoli accessori)
Fender Pure Vintage
59 Stratocaster n.1 Pickup
0992236000 – Made in Usa
– manuale, viti e gommini inclusi –
SENZA SCATOLA € 69
CON SCATOLA € 75
I pickup Pure Vintage 59 sono tutti uguali e vanno
bene in tutte le posizioni (bridge, middle, neck)


Fender 0992236000
PURE VINTAGE PICKUP POWER
From vintage bobbin construction to genuine original-era cloth wiring, all Fender PureVintage pickups are wound to precise specifications for authentic, traditional Fender tone and performance.
'59 Strat Pickup Set
As Heard on Fender American Vintage '59 Stratocaster guitar
Built to evoke the original era of the Fender Stratocaster, these single-coil '59 Strat pickups produce round, warm tone with a sweet edge.
TONAL CHARACTERISTICS
– Formvar-coated magnet wire improves overall brightness
– Alnico 5 magnets add more focus and enhanced dynamics
– Staggered pole pieces balance volume and output across every string
– Wax-potted
PRODUCT DETAILS
– Period-correct cloth wire and fiber bobbin construction
– Includes aged white pickup covers
– Included Components.
Fender '59 Stratocaster pickups come with all parts needed for installation, including:
– Mounting screws
– Pickup height adjustment tubing
– Wiring diagram
Output Rating : Bass 5 / Mid 5 / Treble 6
DC Resistance: 5.9 ohms
Inductance: 2.6 henries
Penne Music è rivenditore autorizzato Fender